Shandong Yellow River Delta National Nature Reserve
(Chinadaily.com.cn) Updated: 2017-08-31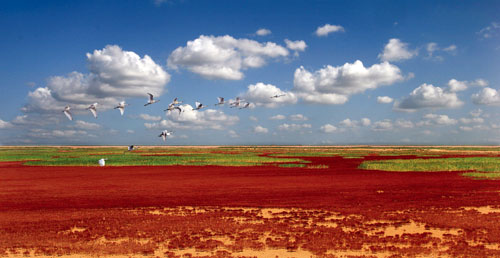 Founded in 1992, the wetlands reserve focuses on protecting the ecosystem in the Yellow River Estuary, in particular the rare and endangered birds that live there. It covers an area of 153,000 hectares and boasts a wetland ecosystem that is the best protected, the widest and the youngest in China's warm temperate zone.
The reserve is now home to 1,626 types of wild animals, including 368 kinds of birds. There are 12 species of birds in the top national protection class and 51 species in the second. First-class national protection birds include the red-crowned crane and the white-headed crane. Second-class national protection birds include the grey crane, whooper swan and mandarin duck. Millions of birds look for food and shelter in the area as they pass through during migration seasons every year. Domestic and foreign experts call the reserve the birds' international airport.
The reserve abounds in vegetation, boasting 393 kinds of plants and plant coverage of 55.1 percent.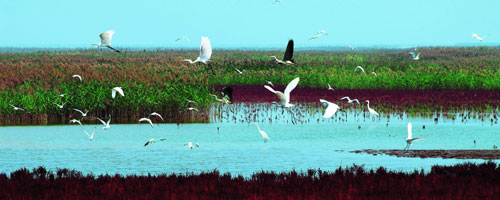 The unique ecosystem and advantageous natural conditions endow the nature reserve with great beauty and scale. It is considered one of China's six most beautiful wetlands.
The area is drawing more and more attention from domestic and foreign wetland organizations and experts. The Ministry of Land and Resources identified it as a national geological park in 2004. The State Forestry Administration made it a national-level demonstration nature reserve in 2006.
The China Wildlife Conservation Association gave an honorary title, the Land of Oriental White Stork in China, to the city of Dongying in 2010. The secretariat of Ramsar Convention, also known as the Convention on Wetlands of International Importance especially as Waterfowl Habitat, approved the area's entry into the list of internationally important wetlands in 2013.