Intangible cultural heritage: Penglai daganhao (bugle)
(Chinadaily.com.cn) Updated: 2017-08-31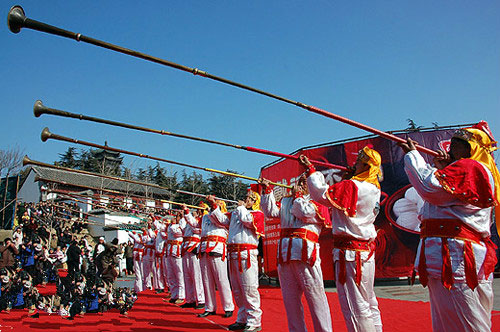 In Penglai, a place known for the ancient Chinese mythology of Baxianguohai (Eight immortals crossing the sea), the sound of a bugle can often be heard. The bugle is the renowned pengai daganhao, a popular musical instrument that requires a high level of skill to play.
Pengai daganhao, also known as a horn, is a copper-pipe musical instrument without valves or other pitch-altering devices. In ancient times, the daganhao was used for military activities, such as drills, training and wars. It gradually evolved into a much-loved musical instrument.
Now the daganhao is widely used in folk customs, including weddings, housewarming parties and sacrificial ceremonies, as well as festivals and events for high officials or dignitaries.
The pengai daganhao has made great contributions to enriching China's culture. It has profound historical, cultural and scientific value.