Artist's oil paintings capture beauty of lotus
(chinadaily.com.cn) Updated: 2017-07-31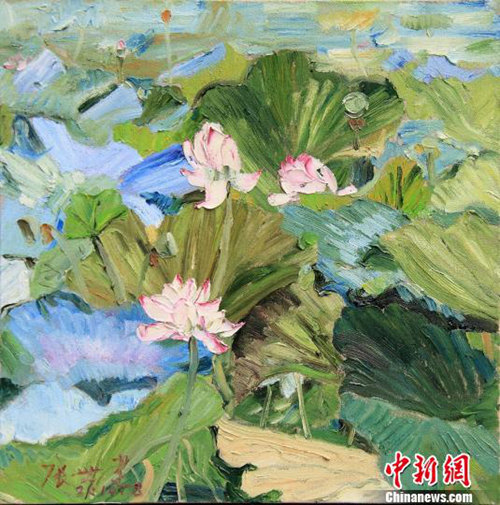 Oil on canvas, Lotus pond. [Photo/Chinanews.com]
When summer is in full swing, ponds of lotus flowers are blooming in many parts of China. For Shangdong-born artist Zhang Shijian, the summer flower has become an important inspiration for his art over the years.
The Scent of Lotus, the 58-year-old painter's first solo exhibition, opened to the public at the No 1 Art Space in Beijing on Sunday, showcasing 40 of his oil paintings portraying the grace and beauty of lotus flowers and its thriving and withering through the changes of seasons.
Born in Jinan, East China's Shandong province, Zhang started his painting career in the early 1990s. Over the decades, he's formed a unique painting style with extraordinary use of colors and light. Since the lotus is a typical summer flower in Jinan, it has become one of Zhang's favorite objects of art creation.
"I'm never tired of sketching nature. We don't even need to modify it since nature is beautiful enough itself," Zhang told China News Service.
The exhibition runs until August 13.