In pics: Yimeng dough figurines
(chinadaily.com.cn) Updated: 2017-06-08
Vibrant, vivid and lifelike Yimeng dough figurines lured countless visitors to the first intangible cultural heritage expo in Linyi City, Shandong province on June 4.
Dough figurine-making is a folk art form with a more than 1,000-year-old tradition in Shandong. Yimeng dough figurines were added to the Shandong provincial intangible cultural heritage list in 2016. Yimeng is an abbreviation of Yi River and Mount Meng in Shandong province.
The expo featured a huge variety of these delicate dough figures, from cute animals to beautiful buds and iconic figures from traditional Chinese fairy tales.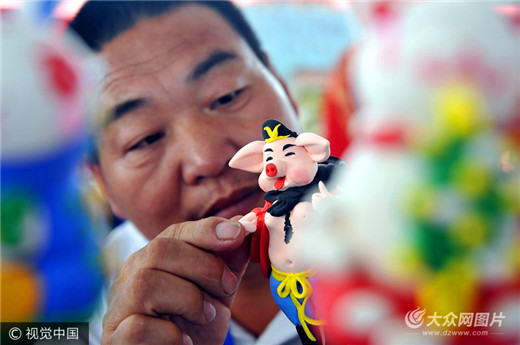 Wang Shuhai, a folk artist and inheritor of the Yimeng dough figurine art form, creates a figure of Zhu Wuneng, a character from the classic Chinese tale Journey to the West, at Linyi's first intangible cultural heritage expo on June 4. [Photo by VCG/dzwww.com]