Peking opera of the Xi'an Incident on Shandong stage
(chinadaily.com.cn) Updated: 2017-05-17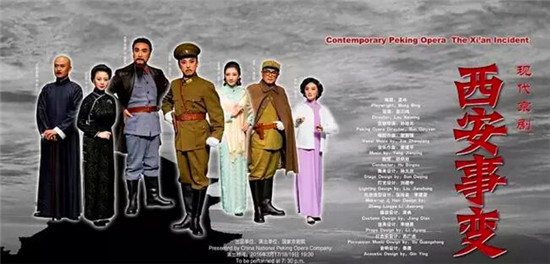 A poster for the Peking opera of the Xi'an Incident. Produced by the China National Traditional Peking Opera Company, the opera won the Wenhua Award in 2016. [Photo/cnpoc.cn]
One of the country's top performing ensembles, the China National Traditional Peking Opera Company, is bringing a contemporary Peking opera based on the Xi'an Incident to the Shandong Grand Theater in Jinan, capital of Shandong province, on May 21.
More than 155 renowned Peking opera artists will act in the play, including Yu Kuizhi, Zhu Qiang, Li Shengsu and Wang Yue.
According to the opera company, the traditional Peking opera will band together with a symphony orchestra for the performance to give the production an appropriate solemnity.
The Xi'an Incident, in the city of Xi'an, took place in December 1936 and was an important turning point in Chinese modern history. It halted China's civil war and united the Kuomintang and the Communist Party, who together turned their guns against the Japanese invaders.
On Dec 12, 1936, Generalissimo Chiang Kai-shek, the leader of the Kuomintang, was arrested by Marshal Zhang Xueliang, a former warlord of Manchuria and Commander of the North Eastern Army. Zhang had fought against the Japanese occupation of Manchuria and their subsequent expansion into Inner Mongolia accompanied by troops of the puppet state of Manchukuo.