Shandong intangible cultural heritage classroom: the paper-cutting magic
(chinadaily.com.cn) Updated: 2017-05-17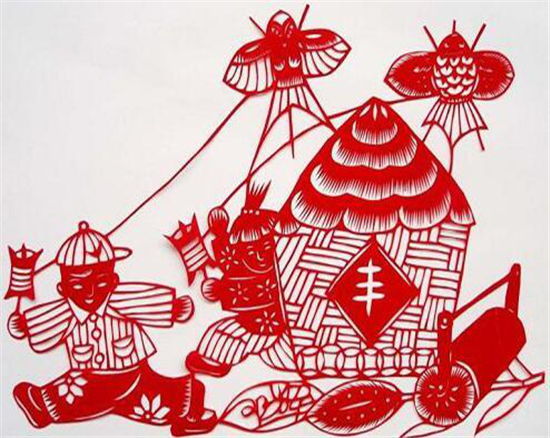 A paper-cut created by Qi Xiuhong, an influential folk artist of Shandong Gaomi paper-cutting. [Photo/sdpc.cn]
The eleventh class of the Shandong intangible culture heritage classroom, led by Qi Xiuhua, the Shandong provincial inheritor of the 600-year-old Gaomi paper-cutting craft, opened on May 13 at the Shandong Provincial Culture Center in Jinan, the provincial capital.
Gaomi city in eastern China is renowned as the birthplace of Shandong folk handicrafts including clay sculpting, paper-cutting, Lunar New Year painting in the flapping-ash style and Maoqiang opera. Among those, paper cutting is the most popular folk art.
Qi won her reputation at national and international cultural events for her exceptional technique. She started learning paper cutting from her grandmother at the age of eight. The talented lady held her first solo paper-cutting exhibition at the age of 19. One of her works featuring cattle was used in the Year of the Ox stamp set to commemorate the Chinese Lunar New Year in 1997.
At the beginning of the course Qi showed her paper-cuts of the 12 Chinese zodiac animals. All the children were instantly intrigued by the exquisite, lifelike and amusing work and were eager to try their hands at the paper-cutting magic.
But Qi was patient and didn't rush to distribute paper-cutting tools and materials.
"The scissors are very sharp. Remember not to point them at others when using them." Qi drilled correct manners into the kids and demonstrated the right posture for using scissors a few times before the kids got their scissors.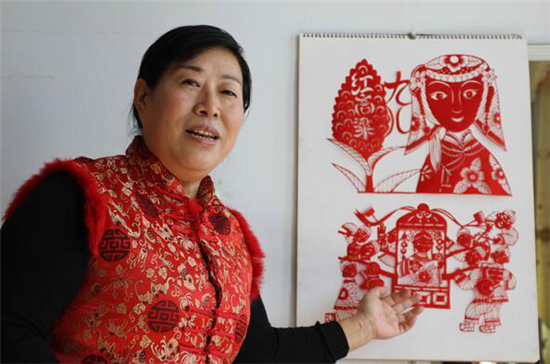 Qi Xiuhong, the renowned paper-cutting expert, displays her works. [Photo/sdpc.cn]