Jinan artists take Chinese New Year show to Equatorial Guinea
(chinadaily.com.cn) Updated: 2017-02-07
The Malabo Cultural Center of Equatorial Guinea was full of festivity as a group of artists from Jinan Art Troupe in East China's Shandong province put on a spectacular Chinese New Year gala on Jan 24 to celebrate the Chinese Lunar New Year.
Organized by the Ministry of Culture, the show marked the fourth time a "Happy Chinese New Year" event has come to Equatorial Guinea, and more than 300 attendees took part in the event, including government officials, commercial representatives, local residents, overseas Chinese and media members.
Traditional Chinese dance and music, magic shows, acrobatics and hand-made crafts supplied by the Jinan Art Troupe were well received by the audience in admiration of their expert skills. National dancers from Equatorial Guinea also performed local traditional dance for the audience.
Chinese Ambassador to Equatorial Guinea, Chen Guoyou, said that the Spring Festival is welcomed and loved by Equatorial Guinea's people, and the show will help to further promote bilateral cultural exchanges, consolidate and enhance friendships between them.
According to a government official of Equatorial Guinea, China-Equatorial Guinea relations have seen steady and sound progress since the two countries forged diplomatic ties 47 years ago. Equatorial Guinea will maintain close exchanges with China and further develop friendly cooperation.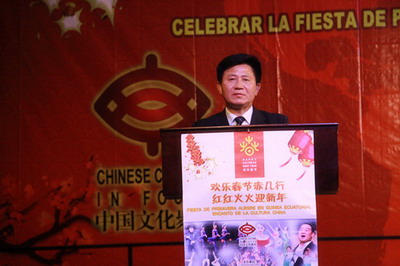 Chen Guoyou, Chinese Ambassador to Equatorial Guinea, delivers a speech during the Chinese New Year gala in Malabo, Equatorial Guinea, Jan 24, 2017. [Photo/fmprc.gov.cn]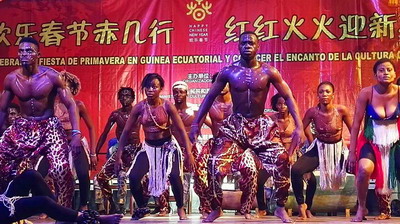 National dancers from Equatorial Guineaput on local traditional dance during the Chinese New Year gala in Malabo, Jan 24, 2017. [Photo/fmprc.gov.cn]
Dancers from the Jinan Art Troupe perform at theMalabo Cultural Centerduring the Chinese New Year gala inEquatorial Guinea, Jan 24, 2017. [Photo/fmprc.gov.cn]