Shakespeare course runs smooth at Shandong University
(chinadaily.com.cn) Updated: 2016-12-07
The British Council's series "Shakespeare Lives in 2016" arrived at Shandong University on Nov 30, as a part of a global tour celebrating the playwright on the 400th anniversary of his death – proving that all the world really is a stage.
Theater experts from the UK, and members and scholars of Shandong's cultural community discussed The Bard's works with students, celebrating the life and legacy of who many consider to be the greatest ever writer in the English language.
According to Duncan Lees, an expert on British drama, acting out the works is the best way to appreciate and enjoy Shakespeare.Lees provided detailed analyses of central Shakespearean characters such as Hamlet and Macbeth, giving examples of the range of different portrayals that have been performed.
A fun activity saw the audience members act out their favorite quotes from Shakespeare's plays and sonnets, with some even reciting entire soliloquys.
Jack Murray and Olivia Mace, experts from Shakespeare's Globe Theater in London, demonstrated the different ways in which Shakespearean dialogue can be articulated in a series of short theatrical performances and interactive games.
Diao Linghui, an English major from Shandong University, said that Shakespeare's literature is a compulsory course for all English majors. Through the guidance of the experts in British drama, she learned more about the different ways Shakespearean lines can be intonated and expressed, giving her a deeper insight into Shakespeare's legacy.
This year marks not only the 400th anniversary of Shakespeare's death, but also that of Chinese Ming Dynasty (AD 1368-1644) playwright Tang Xianzu.
Wen Shanchang, an official from the Shandong Provincial Department of Culture, said,"The two literary giants depict the common emotional perception in different cultural backgrounds."
Wen said afterwards that the activity helped to promote Sino-British cultural exchange and enriched the minds and lives of both peoples.
He added that studying and performing Shakespeare can help improve literacy, and confidence in English.
Nick Low, counselor of the British Embassy in China, said that the "Shakespeare Lives in 2016" activity will help students and faculty members of Shandong University to better understand Shakespeare and promote China-UK exchanges in the cultural and educational fields.
"Shakespeare Lives in 2016" was launched on Jan 5 by the British government. The program has traveled to more than 70 countries. Throughout the year, people have been able to share their favorite Shakespeare moments on social media, watch never-before-seen performances on stage, film and online, visit exhibitions, take part in workshops and debates, and access new Shakespearean educational resources to help get to grips with the English language.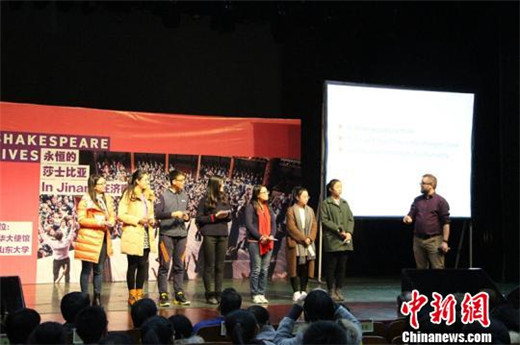 Duncan Lees, an expert in British drama, invites Shandong University students to recite memorable quotes from Shakespeare's plays. [Photo by Zhao Xiao/Chinanews.com]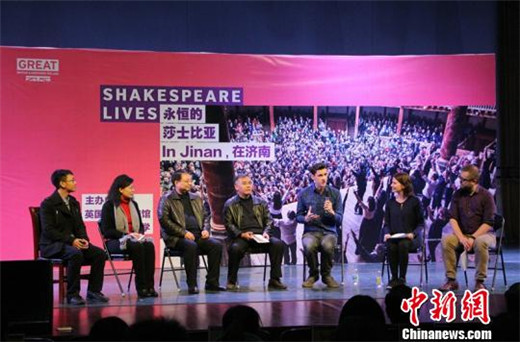 Experts from Shakespeare's Globe Theater discuss Shakespeare's plays with students and faculty members of Shandong University. [Photo by Zhao Xiao/Chinanews.com]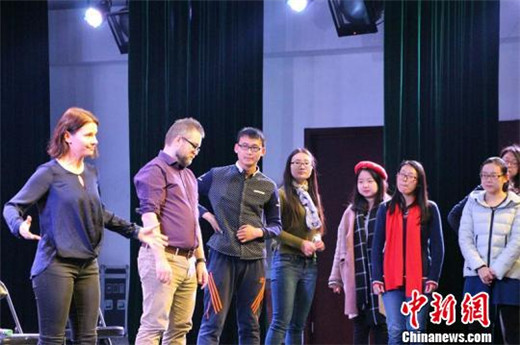 Jack Murray and Olivia Mace, experts from Shakespeare's Globe Theater, demonstrate the methods of articulation in the theatrical performances to the Shandong University students through interactive games.[Photo by Zhao Xiao/Chinanews.com]