2016 Mount Tai Int'l Marathon warms cool Oct morning
(chinadaily.com.cn) Updated: 2016-11-02
The sudden drop in temperature last weekend did little to cool runners' enthusiasm at the 2016 Mount Tai International Marathon on Oct 30 in Tai'an, East China's Shandong province.
A stream of purple flowed through the region's streets after the starter's gun was fired at 8:00, the color was chosen for this year's race t-shirts and symbolizes good luck in traditional Chinese culture.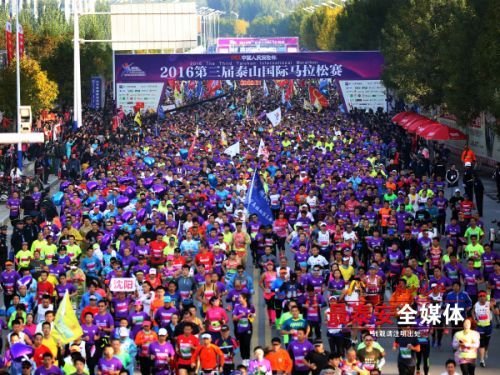 Runners set off at the 2016 Mount Tai International Marathon held on Oct 30. [Photo/my0538.com]
The event attracted 17,836 runners from around the world and runners competed in three separate races; full marathon (42.195kilometers), half marathon (21.0975 kilometers) and mini marathon (5 kilometers).
This is the third iteration of the Tai'an event, widely considered one of China's most beautiful races on account of its stunning scenery.
The race passes a handful of Tai'an's most famous locations including the sacred Mount Tai, the colorful Taohua (peach blossom) Valley, the historic Dai Temple, the spectacular Tai'an Culture and Art Center, and Tianping Lake.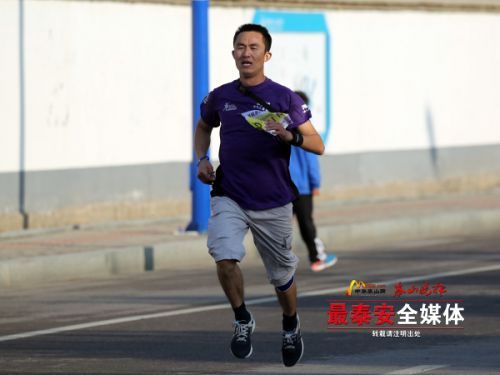 China's Liu Zhen wins the first in mini marathon, clocking 21 minutes. [Photo/my0538.com]
Both the men's and women's races were won by Kenyan athletes with last year's winning time broken with a time of 3 hours and 14 minutes.