University grads get their own art exhibition in Shandong
(chinadaily.com.cn) Updated: 2016-07-21
The Shandong Art Museum is hosting an exhibition of the best works of graduates of university's fine arts college, in the city of Jinan and will have an award ceremony with a "Liu Dawei Art Prize" on July 14, with 238 covering traditional Chinese painting, oil painting, watercolors, sculpture, pottery, and various other forms.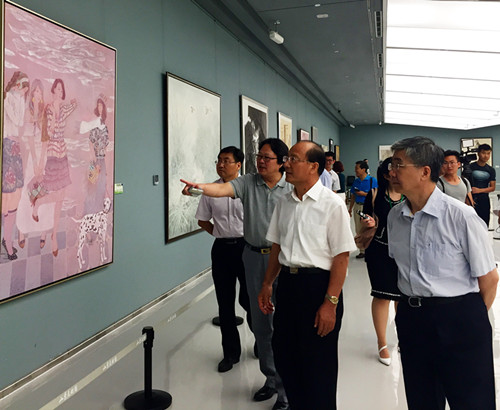 Ji Xiangqi (2nd L), Shandong province's vice governor and Xu Xianghong (1st L), head of the Shandong Provincial Department of Culture, examine paintings at the Shandong Art Museum grad student exhibition. [Photo by Wang Qian/chinadaily.com.cn]
Taking part in the opening ceremony was the person for whom the award is named, Liu Dawei, chairman of the China Artists Association, who also presented the prizes to the winners. The students performed well in this exhibition, with seven getting the "Liu Dawei Prize" and another 20 receiving prizes for excellence.
The exhibition which runs through August 31, is sponsored by Shandong Provincial Department of Culture and Shandong Provincial Education Department. The Museum has been collecting works from the university's grad students in Shandong province every year since 2014, to encourage talented young artists. Liu proposed giving the outstanding students awards at the exhibition, named after himself.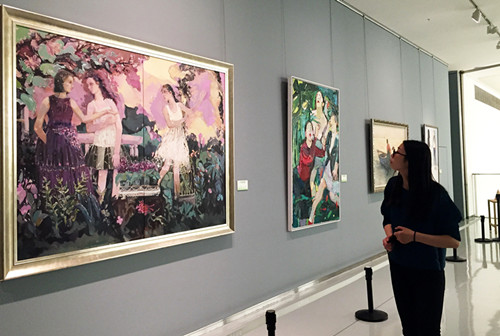 Visitor attracted by a painting at the Shandong Art Museum grad student exhibition. [Photo by Wang Qian/chinadaily.com.cn]