China's 'Dinosaur City' impresses foreign media
(chinadaily.com.cn) Updated: 2016-07-06
A media delegation from South Korea and Japan stepped back in time to tour the Zhucheng National Dinosaur Geopark, on the outskirts of Weifang city, in East China's Shandong province, chinadaily.com.cn reported on June 29.
Zhucheng is a county-level city affiliated to Weifang, which covers an area of 2,183 square kilometers and is home to 1.1 million people.
The city, known locally as "Dinosaur City", is most well-known for being the site of the world's largest dinosaur fossil find, where scientists are said to have recovered more than 7,600 fossils from a 300-meter-long pit.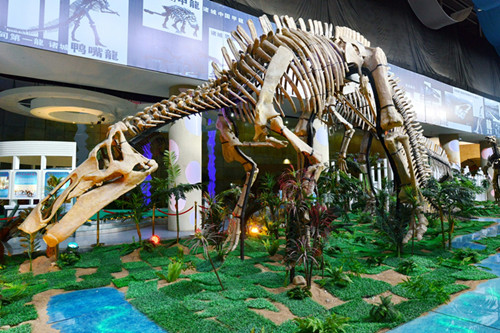 The skeleton of the world's largest Hadrosaur, a duck-billed dinosaur, is displayed at the Zhucheng Dinosaur Museum. [Photo by Wang Qian/chinadaily.com.cn]
At the Zhucheng Dinosaur Museum, the reporters admired dozens of reconstructed dinosaur skeletons as well as hundreds of well-preserved dinosaur fossils.
The most precious exhibit among the collections was the world's largest remnants of the duck-billed Hadrosaur, discovered near the city in the 1980s.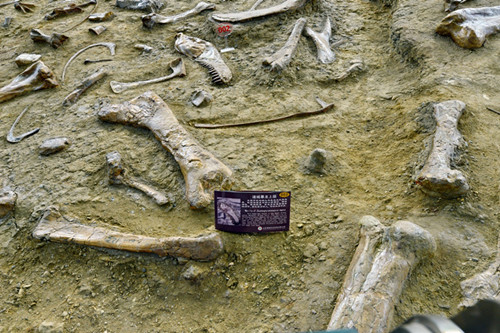 Fossils of the upper-jaw of a Tyrannosaurus rex on display at Zhucheng Dinosaur Museum. [Photo by Wang Qian/chinadaily.com.cn]