Growth in tourism rooted in mountain
By Wang Qian (China Daily) Updated: 2016-06-01
Tai'an, a city in Shandong province that is centered on Mount Taishan, is tapping into its historical and cultural resources to become an international tourist destination.
"Over the years, Tai'an has combined its natural landscape and cultural aspects to develop its tourism industry, which has become the city's pillar industry," said Tai'an Mayor Wang Yunpeng.
Tai'an's tourism sector has maintained rapid growth during the 12th Five-Year Plan (2011-2015). In 2015, the city received 57.9 million visitors, up 9 percent from 2014. Tourist spending totaled 58.23 billion yuan ($8.84 billion), equivalent to 18.4 percent of its GDP, according to local government statistics.
"We have introduced a number of culture-oriented travel projects to attract more visitors," said Wang, "In previous years, most visitors traveled to Tai'an to climb Mount Taishan, but now they can have different traveling routes and they tend to stay in the city for a few days."
After the development of the traditional Fengshan ceremonies in Mount Taishan, also called the emperors' sacrificial ceremonies, a number of culture-oriented travel projects have been established in Tai'an over the past five years, including Fantawild, Taishan Colorful Time Scenic Spot, Sun Tribes Scenic Spot, Baotailong Tourism of Taishan and the Old Town of the Water Margin.
The Fengshan ceremonies, through its 200 live performances each year, have spurred the popularity of Mount Taishan and its unique culture.
Over 3,000 years, Chinese emperors have made pilgrimages to Mount Taishan to pray to the gods. Twelve emperors, beginning with Qin Shihuang, the first emperor to unify China in 221 BC, have paid homage in a ritual called "Fengshan Sacrifices" at the mountain.
During this year's three-day May 1 holiday, Tai'an received 670,700 visitors, bringing in 71.64 million yuan.
The May 1 holiday saw the Old Town of the Water Margin reap 14.4 million yuan in ticket proceeds, the Sun Tribes Scenic Spot gain 12.48 million yuan, Baotailong Tourism of Taishan 9.23 million yuan and Fantawild 6.67 million yuan.
Rural tourism is a new growth point for the city. It brought in 1.36 million yuan in revenue during the May 1 holiday, up 10.5 percent from the same period in 2015.
Daiyue district's Liyu village, with some 200 households, drew around 40,000 tourists annually, generating over 2 million yuan. The number of visitors to Pingwa village in Xintai, known for its folk customs and historic villages, topped 5,000 during the spring season. The city has also developed culture-related tourism products and souvenirs, such as carvings of Taishan jade, which is found in deposits around the mountain, said scholar Zhou Ying.
"Taishan jade is a cultural symbol of Mount Taishan. It appreciates rapidly, with an annual appreciation rate of about 200 percent," Zhou said.
The Tai'an government has determined that there are 5.07 million metric tons of ore and 2.71 million tons of jade within a 3.64-square-kilometer area around the mountain. Currently, annual turnover of Taishan jade in Tai'an is 500 million yuan.
The local government is currently building a Taishan jade trading, processing and tourism base.
wangqian2@chinadaily.com.cn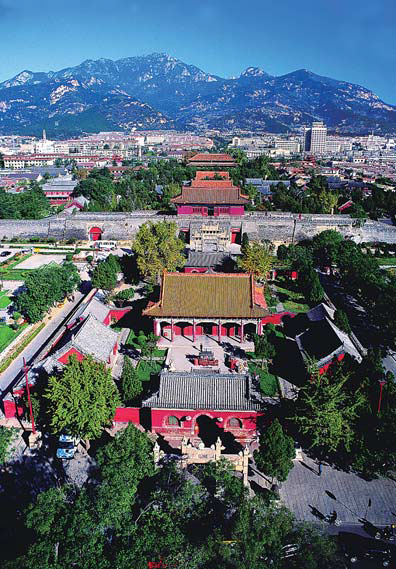 A bird's-eye view of Daimiao Temple, located at the foot of Mount Taishan. Wang Dequan / For China Daily