Maoqiang Opera
(chinadaily.com.cn) Updated: 2015-09-01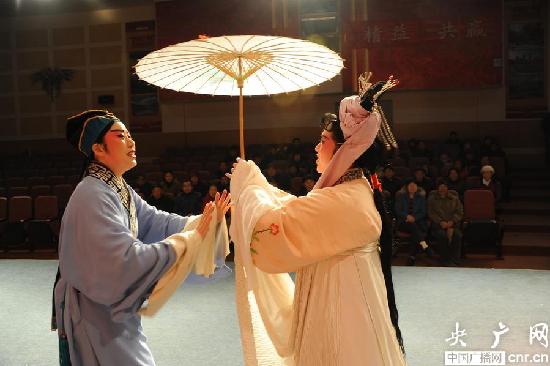 Actors perform Maoqiang Opera on stage. [Photo/cnr.cn]
Maoqiang Opera is a traditional folk art from the Jiaodong area. People strike drums hanging from their elbows as they sing, so it is also called "Elbow Drum Music" or Zhouzigu.
With a history of more than 200 years, it originated in the Jiaozhou area of the Jiaodong Peninsula of Shandong province, and is popular in Qingdao, Yantai, Rizhao, Weifang and Gaomi.
During its development, the opera absorbed arias and forms of other local art forms, such as the flower drum dance and the yangko (a popular rural folk dance).
It has developed more than 140 plays, including some representative plays, "Dongjing", "Xijing", "Nanjing", "Beijing" and "Luoshanji", attracting many people.
The melody is unpretentious and natural. The accompanying instruments include drums, cymbals, gongs, jinghu (a two-stringed musical instrument similar to the erhu), yu-kins, suona horns, flutes, and sheng (a reed pipe wind instrument). The main roles are sheng (male roles), dan (female roles), and chou (comic roles), just like in Peking Opera.
The first Chinese Nobel Prize Laureate Mo Yan's novel, Sandalwood Death, is written in the style of Maoqiang Opera and its English translation was published in 2013.
Having a deep affection for the opera, Mo said he grew up watching Maoqiang plays in his hometown of Gaomi, Shandong province.
"It was so popular in the 1950s and 1960s that when a troupe came to my village, all the people would stop everything and rush to secure a seat. If a famous performer was due, the show would sell out many days in advance." Mo Yan said at the annual session of the National Committee of the Chinese People's Political Consultative Conference, held on March 4.
Maoqiang was listed as a national intangible cultural heritage in 2006, and since then the local government has taken a series of measures and spent large amounts of money to preserve it.