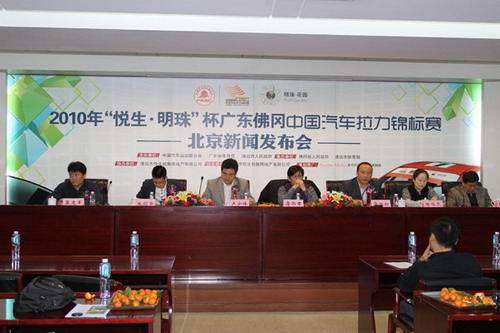 Press release for the 2010 China Rally Championship
The final competition of the 2010 China Rally Championship was held Dec 17 to 19 in Fogang county, Qingyuan city of Guangdong province. The rally was co-hosted the Federation of Automobile Sports of the People's Republic of China and the Fogang municipal government.
The road race attracted more than 20 teams, including more than 80 pre-registered race cars. About 20 foreign racers participated in the event. The race car drivers included longstanding Chinese race champion Liu Caodong, and nationally known writer and race car driver Han Han.
The rally was the second hosted by Fogang county. City workers made extensive repairs and modifications to all tracks at the rally site between the 2009 race and the 2010 race
During the race, the county also hosted the Sugar Orange & Health Tourism and Cultural Festival. More than 50 key business and economic development projects involving an investment of more than 30 billion yuan also were announced before the race.