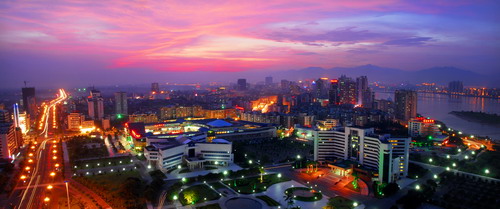 Charming night scene of Qingyuan city
Situated in the northern part of Guangdong province, Qingyuan city connects Guangzhou, the capital of the province, to the south, Hunan province to the north, Shaoguan city to the east and Guangxi Gui Autonomous Region to the west. It is an up and coming city with abundant resources, unique people, picturesque landscapes and a beautiful environment. It is known as "the backyard garden of Guangzhou and the Pearl River Delta".
Qingyuan has an advanced traffic network. It is 60km from downtown Guangzhou, only 30km from Guangzhou Baiyun International Airport and 200km from Hong Kong and Macao. Thanks to this obvious geographical advantage, Qingyuan has enjoyed rapid economic and social development over the past few years. From 2004 to 2009, the average GDP growth rate was above 25 percent, ranking the city top in the province six years in a row in terms of four of the eight major economic indicators employed by Guangdong province. These impressive figures illustrate what has become known as the "Qingyuan Phenomenon". Qingyuan has transformed itself from the underdeveloped area of the past into a treasure land for investors. Qingyuan is now one of the "National 100 Strongest Counties in terms of Overall Strength".
To further the area's economic and social development, the municipal party committee and government hopes to make tourism a pillar industry of economic and social development and a spearhead of the tertiary industry. In developing tourism in Qingyuan, the government has made it clear that the plan for Qingyuan is to develop the area into "a famous livable city in Lingnan, environmentally friendly, with a strong economy and a place of relaxation in South China". To this end, the government has formulated a series of preferential policies aimed at attracting investment in tourism. It has also carefully chosen the most valuable areas for investment, development and business startups, all to promote the rapid development of its tourism industry.
According to statistics, the tourism in industry Qingyuan was booming in 2009. That year the city received 18.81 million domestic and foreign tourists, a year-on-year rise of 26.41%, while total revenue from tourism was 7.508 billion yuan, a year-on-year rise of 33.45%. As these figures reveal, the tourism industry is playing a bigger role in stimulating consumption, promoting employment and raising local residents' income.
Qingyuan have some of the richest tourism resources of the whole province. In 2002, it was awarded the title of "Excellent Tourist City in China" by the State. It has more than 70 tourist attractions, including 8 national AAAA scenic spots, making it the prefecture-level city with the most national AAAA scenic spots in the province. Qingyuan's main tourist draws are fivefold: "hot springs, rafting, mountains and water, karst caves, and folk customs".
Hot springs. Qingyuan is the second prefecture-level city to be granted the title of "Land of Hot Springs" in China. The city is home to 19 hot spring tourism companies, as well as the Qingyuan hot springs service, which aims to improve the standards of the city's hot springs by combining health, sports, development, relaxation and entertainment with business meetings.
Major local hot springs companies include: Qingxin Hot Mineral Spring Resort--China's first hot spring-based AAAA tourist area, Julong Bay, Xinyinzhan, Huanghua Lake and Qidong Hot Springs.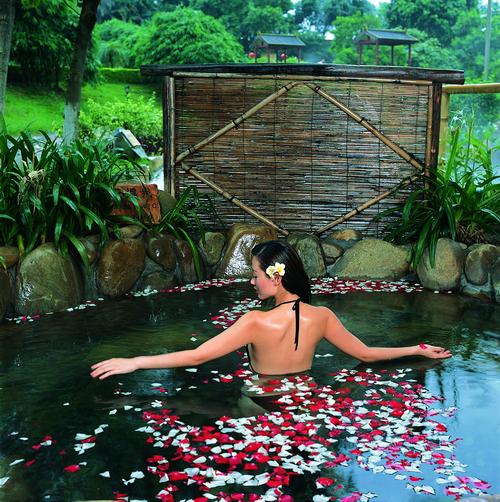 Qingxin Hot Mineral Spring Resort--China's first hot spring-based AAAA tourist area
Rafting. Qingyuan is the second prefecture-level city to be granted the title of "Land of Rafting" in China. The city has 16 rafting companies, Guangdong Sports Administration and Tourism Administrations hold an International Rafting Competition in Qingyuan every year attracting hundreds of players from Europe, America, Southeast Asia as well as China to the event. In June 2007, "Qingyuan Hot Springs and Rafting" was rated as the "Europe's Favorite China Attraction" by the Organizing Committee of the Sino-EU Tourism Cooperation Forum.
Major local rafting sites include: Huangteng Gorge, Xuanzhen, Gulong Gorge and Bijiashan Qinglong Gorge.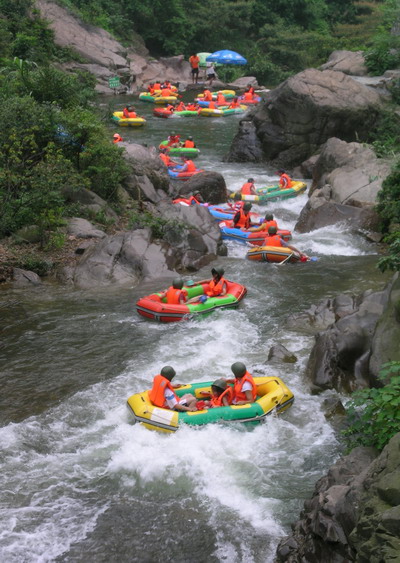 Huangteng Gorge rafting
Mountains and water. Qingyuan enjoys fresh air and a pleasant natural environment. It is also home to two of China's 72 sacred Taoist sites as well as the Feixia scenic area--one of the 8 famous mountains in Guangdong, the Guangdong First Peak Scenic Spot--1,902 meters above the sea level, and the beautiful Beijiang River which runs through Qingyuan from south to north.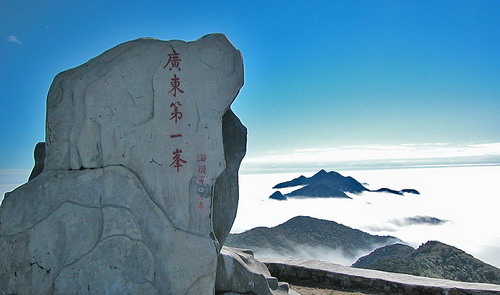 Guangdong First Peak--1,902 meters above the sea level
Karst caves. The typical karst landforms found to the north of Qingyuan have generated numerous marvelous underground caves and rivers. For this reason, the Geological Society of China named Qingyuan as a "Land of Caves in China". The Lianzhou Underground River, Yingde Baojing Palace, Shenbi Cave and Jinlong Cave are all hugely popular with many tourists.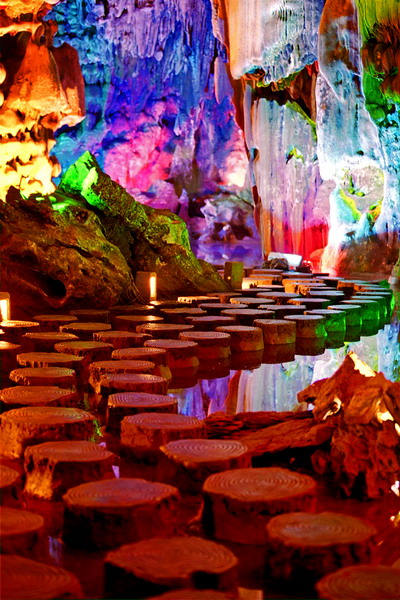 Yingde Baojing Palace
Folk customs. Two of Guangdong's three ethnic minority autonomous counties are to be found in Qingyuan: Liannan Yao autonomous county and Lianshan Zhuang autonomous county. The presence of these minorities has had a great impact on the city. The millennial Yao village scenic area in Liannan, Yao people's "King Pan Festival and singing party" and the water festival at Zhuang villages in Liannan have attracted countless domestic and foreign tourists. The city is now making efforts to establish itself as a "world center of Yao culture and art" and fully take advantage of the area's intangible cultural heritage and unique ethnic characteristics.
Qingyuan also has a large variety of food and local specialties. Qingyuan chicken, Wuzong goose and Luokeng bamboo root are just a couple of a number of delicacies the city has to offer. The city also boasts many exciting festive activities such as the annual "Drafting Kickoff Festival", the Fogang "Tofu Festival" and the Yingde "Stone Festival" Each event demonstrates and adds to the charm of Qingyuan. Hot springs, drafting, karst caves, mountains and water, folk customs, the beauty and charms of Qingyuan are endless.
Qingyuan is waiting for you with beautiful scenery and delicious food.