The fourth Session of the China E-Commerce Logistics Conference, organized by the Kunshan government, China Logistics Information Center and China Federation of Logistics & Purchasing, was held in Huaqiao International Business Service Park on Tuesday.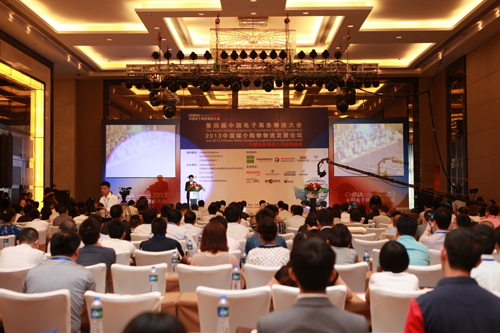 Cai Jin, vice-president of the China Federation of Logistics & Purchasing; Nie Linhai, deputy director of the Department of Electronic Commerce and Information of the Ministry of Commerce; and Dong Baoqing, deputy director of the Information Promotion Department of the Ministry of Industry and Information Technology, all participated.
More than 500 e-commerce and logistics representatives took part in the conference, such as Suning (one of China's largest electronics retailers), Wal-Mart, China Railway Express, 360buy.com (also known as Jingdong Mall, one of China's biggest electronics online shopping websites) and China's emerging online store Yihaodian. The enterprises met to discuss the trends in the e-commerce and logistics industry.
Shen Xiaoming, vice-mayor of Kunshan, delivered a speech at the conference, saying that Kunshan, located in the Yangtze River Delta, is the most economically developed area in China. With such a superior location and convenient regional transportation, it has sped up efforts to develop the e-commerce logistics industry.
He said that Kunshan has already attracted a number of industry leaders such as Alibaba, Amazon, and Decathlon to invest in the region. Kunshan, as a pilot for the modern service industry, will take advantage of the opportunity of holding such conferences to further develop the e-commerce industry and deepen cross-Straits industrial cooperation.
During the opening ceremony, Zhang Zhenyue, deputy director of the management committee of Huaqiao Economic Development Zone, made a thorough introduction of Huaqiao's advantages, current conditions and future outlook to participants, focusing on the three themes of urban construction, industrial development and talent environment.
"Huaqiao is now relying on its superior geographic conditions, efficient government service and first-rate industrial planning to accelerate the construction of modern international services, providing good growth potential to the e-commerce and logistics industry," Zhang said. "We welcome all kinds of cooperation and look forward to your visits to Huaqiao."
The conference created three forums themed around e-commerce warehousing, e-commerce logistics and e-commerce investment to find out solutions to bottleneck problems facing the industry, as well as to improve the competitiveness of e-commerce businesses.
Edited by Michael Thai and Li Xiaoliang