The second China Suzhou Creative & Design Cultural Industry Expo (CCDCIE) was held on April 19-22 in Suzhou. Two companies engaged in the cultural industry from Huaqiao attended.
The expo focuses on the theme of "city, culture and design", attracting more than 200 participants from countries and regions at home and abroad, such as the United States, Republic of Korea, Hong Kong and Beijing.
Kunshan, a county-level city in Suzhou, also displayed the cultural creativity of 11 companies in an exhibition area of nearly 108 square meters. Suzhou Sandi Culture and Media Co, a company from Huaqiao, installed a 42-inch naked eye 3D display device for the Kunshan exhibition area and produced 3D corporate videos for Kunshan's 11 companies.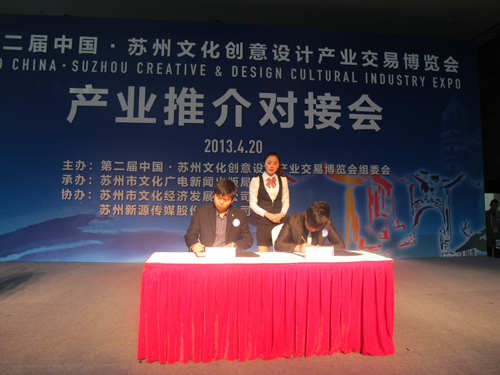 Another participant from Huaqiao is Huaqiao Youzhan Business Operation Management Co. The company signed a contract valued at 30 million yuan ($4.9 million) with Tencent to build an offline electronic sports stadium for Tencent Games' East China section.
Huaqiao's cultural industry has developed rapidly in recent years. Cultural companies including Suzhou Sandi Culture and Media, Hairun Media and Dongnandong Creative Industrial Park are growing steadily, bringing value to Huaqiao's current service industry.
Edited by Michael Thai and Li Xiaoliang