Food connected to the Longtaitou Festival
People eat toufu balls in East China's Fujian province during this festival. People often make the tofu and vegetable balls to pray for family and business.
Traditional chengyao cakes are sold in Suzhou, East China's Jiangsu province. Suzhou has a tradition of eating chengyao cake on this day as an old saying goes, if you eat chengyao cake on Longtaitou, your waist will not hurt all year. Chengyao cake is a kind of Chinese traditional cake made with sticky rice.
People in parts of Shandong province eat fried beans to celebrate the festival.
There are also food with dragon names. Dumplings, spring rolls and popcorn are all given dragon names. Noodles are called dragon's beard (long xu), dumpling are dragon's ears (long er), spring rolls are dragon's scales (long lin), and popcorn is called dragon seeds (long zi).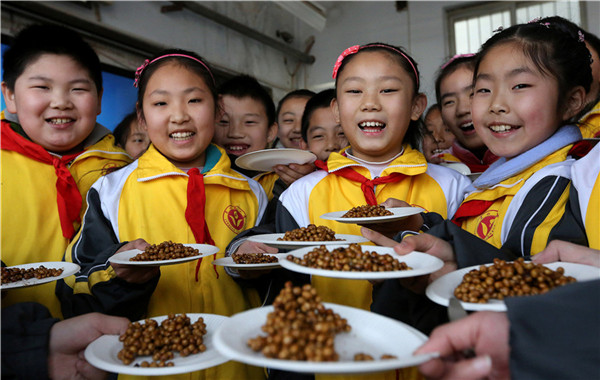 Students show fried beans to greet the the Longtaitou Festival in Zaozhuang city, East China's Shandong province, March 9, 2016. The festival falls on March 10 this year. [Photo by Ji Zhe/Asianewsphoto]