Hair cut on Longtaitou Festival for good luck
The most famous tradition on this day is to have a haircut. Some people believed that going to the barber on the second day of the second month would get rid of bad luck, while others believed it was very bad luck to get a haircut during the first month of the lunar calendar.
There's an old saying, "Cut your hair in the first month and your maternal uncle will die." Nowadays most people pay no attention to the tradition but seniors say in the old days patrons would line up outside barber shops on the Dragon Head Raising Festival.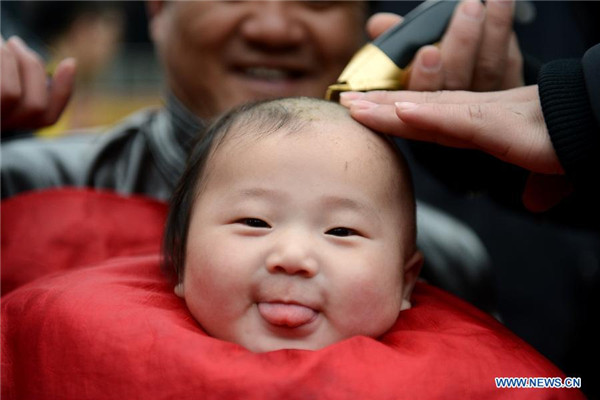 File photo shows a kid having his hair cut on Leijie Square in Hefei, capital of East China's Anhui province, March 2, 2014. On the occasion of the second day of the second lunar month, known in Chinese as Er Yue Er, "a time for the dragon to raise its head", as a Chinese saying goes. Many Chinese follow tradition and get a haircut on this day, hoping it will bring good luck. [Photo/Xinhua]