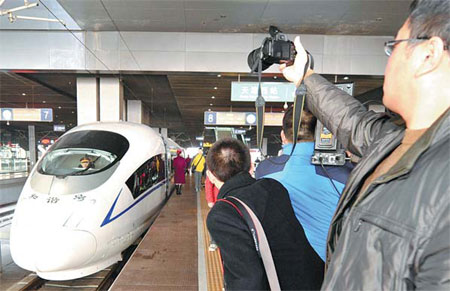 The first train on the new Tianjin-Qinhuangdao high-speed railway is ready to go on Sunday morning. The 287-km line will play a key role in linking up the rail network in Northeast China with that of North and East China. Yue Yuewei / Xinhua


A high-speed railway connecting Tianjin municipality and a port city in Hebei province started trial operations on Sunday.

The Tianjin-Qinhuangdao rail line has nine stops, five in Tianjin and four in Hebei province, the Beijing Railway Bureau said on Sunday.

The new 287-km line brings the total length of China's high-speed rail network to more than 10,000 km.

The bureau, which administrates the line, said the maximum speed of its trains is designed to be 350 km per hour but in the early stage of operations they will operate at 300 km/h.

The train travel time between Tianjin and Qinhuangdao will be shortened to one hour and 11 minutes, almost half the previous time, the bureau said.

Construction of the rail line started in November 2008 and testing began last month. Local newspapers reported the railway is expected to attract more than 80 million passenger trips each year.

The bureau said the new railway will serve as a link to connect rail lines in Northeast China with the national high-speed railway network, as Qinhuangdao is a key city to enter Northeast China.

Tourists heading to Qinhuangdao, a popular coastal destination in the summer, from East and South China will have faster service thanks to the line, said Dong Yan, a researcher at the Institute of Comprehensive Transportation, under the National Development and Reform Commission.

"Tourists going from the southern part of the country to Qinhuangdao no longer need to take trains through Beijing," he said.

Liu Jinsong, a researcher at the Zhongjing Huicheng Institute of Urban-Rural Planning and Design, said the Tianjin-Qinhuangdao railway will also help integrate the economy of the Bohai Bay Economic Rim, which includes Beijing, Tianjin and areas in Hebei, Liaoning and Shandong provinces surrounding the Bohai Sea.

With the new line, China has 34 high-speed rail lines making up one-tenth of the country's total railway operation mileage, Xinhua News Agency reported.