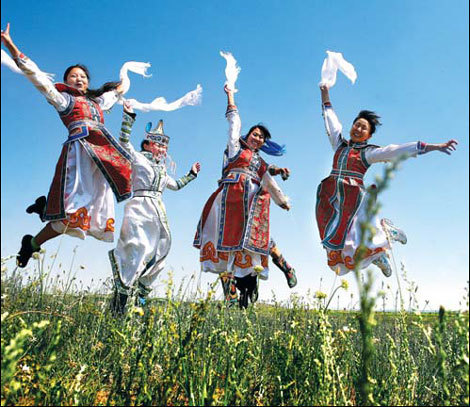 The music festival held on 100 hectares is now well established as the largest outdoor music gala in China.
Rock'n' roll fans will soon be able to indulge their passion as preparations are in full swing for the 2012 InMusic Festival in Zhangbei county of northwestern Hebei province.
Organized by the Zhangbei government and InMusic, an influential music magazine in China, the three-day gala opens today on the county's prairie lands about 250 kilometers from Beijing.
Music enthusiasts are expected to enjoy themselves since the event boasts an all-star lineup of musicians including Cui Jian, Faye Wang, Zhang Chu, as well as the bands Linkoban, Orbital and Spiritualized.
China's first heavy metal band Tang Dynasty is also scheduled to perform, according to a list released by the news portal Ifeng.com.
In addition to rock music, spectators will also have the opportunity to enjoy other genres such as jazz and folk music.
Begun in 2009 as an annual event, the festival on 100 hectares of grassland is now well established as the largest outdoor music gala in China, according to the event's organizing committee.
In 2011, the event drew a record of more than 300,000 concertgoers in just three days, setting a record for the country's musical activities.
Improved services
Due to the preparations of organizers, the event handled the sudden influx of people, but a shortage of parking and congested roads caused problems.
The organizers are making every effort this year to improve the situation, the committee told China Daily.
In addition, more stages have been set up and security enhanced since the number of fans is likely to double this year, they added.
The committee is also working to make the music fest a green event with all electricity provided by windmills.
It will also provide trash cans and erect signs calling for spectators to respect the natural environment, the committee said.
The event that has rocked its way to nationwide fame over the past three years, can be traced back to a casual encounter in 2008.
That winter, Zhangbei Party Chief Li Xuerong met Liu Yifan, head of the magazine InMusic, and asked Liu to find a way to help the county's development.
Finding that the surrounding prairie was a site for imperial entertainment in ancient China, Liu began planning for the music festival in 2009.
"Zhangbei has a unique environment that made me to initiate the festival at the very start," Liu said.
"Now the festival has become a regular event, and I hope it can create beautiful memories for more people," he added.
liuxiang@chinadaily.com.cn
(China Daily 07/27/2012 page24)