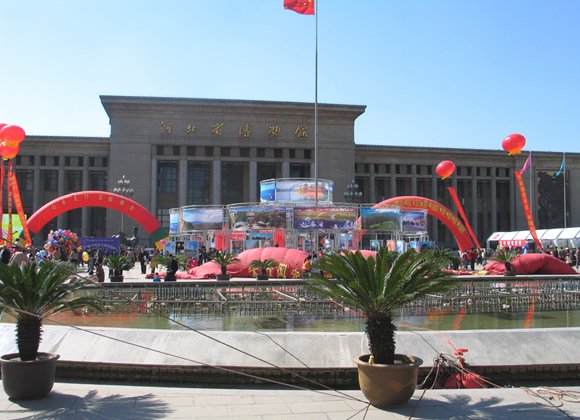 Located in Huabei Plain, Hebei province has long history and splendid culture. Numerous historical relics have been unearthed in Hebei, and most of them are collected in Hebei Provincial Museum.
Hebei Provincial Museum was founded in Baoding city in 1953 and moved to Shijiazhuang, capital city of Hebei province in 1982. In the past several decades, the museum has made remarkable achievements in cultural relics collection, preservation, exhibition, education, and research etc.
Now Hebei Provincial Museum is located in the center of Shijiazhuang city, with 11,216㎡ of exhibition hall floor space. Its building is simple, elegant and magnificent.
There are 150,000 collections in the Museum, among which 322 are national first class (including 6 national treasure degree).
The most important cultural relics are those unearthed in the tombs of the couples of Liusheng, King Jing of Zhongshan State in Western Han Dynasty. Two sets of Jade Shrouds Sewn with Gold Thread, Changxin Palace Lamp in Figure Shape and gold-inlaid bronze Boshan incense burner are well known in the world.
A large number of porcelain wares are collected in the museum, including the works of Xing Kiln of the Tang Dynasty, and the works of Ding Kiln and of Cizhou Kiln of the Song Dynasty. The most remarkable one is a blue-and-white glazed jar with floral design of the Yuan Dynasty.
The best one among the jade articles is jade bi unearthed in the tombs of Liusheng couples and a set of burial jade shroud unearthed in tomb of Liuyan--King of Zhongshan State in the Eastern Han Dynasty.
There rather number bronze wares and stone Buddhist statues are collected in the museum.The white marble Buddhist statues excavated in the site of Xiude Temple of Quyang county are well known.
Among the collection of paintings and calligraphy works, there are many masterpieces of distinguished painters and calligraphers, including the works of Wenzhengming, Zhuda, Zhengbanqiao, Xugu,Wuchangshuo and Xubeihong.
There are five regular exhibitions in the museum--The Ancient History of Hebei, The Modern History of Hebei, Hebei Today, The Mysterious State--Zhongshan State in the Warring States Period, The Hometown of Jade Shroud Sewn with Gold Thread--Mancheng Tombs of Han Dynasty. And the latter two were awarded the Top Ten Exhibitions of China in 1997 and 1999 separately.
Several new temporary exhibitions are held each year.
The project of a new modern museum has been constructed from 2006. The new museum will be open at the end of 2010.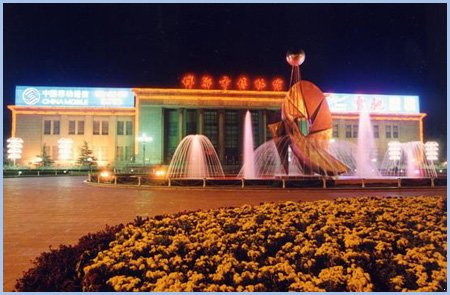 (english.hebei.com.cn)