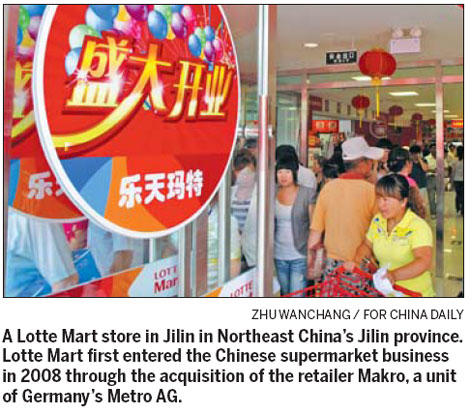 BEIJING - Lotte Mart Co China, a division of South Korea's Lotte Group, is planning to open more than 200 stores in China by the end of 2018, a step driven by an aggressive overseas expansion strategy.
"We plan to have 300 supermarkets in China by the end of 2018, Including several regional store-openings this year," said Guo Miao, public relations manager of Lotte Mart China on Friday.
Guo said the retailer will open three outlets in North China's Hebei province this year. Meanwhile, the company says it will also open eight stores in East China and three more outlets in Jilin and Liaoning provinces by the end of the year.
In addition to its plans for China, the company will also open stores in Vietnam and Indonesia this year.
"Lotte Mart has to expand its overseas market because of the sluggish domestic economy in South Korea," said Tang Jiarui, a retail analyst at Everbright Securities Co Ltd. "But the road for Lotte Mart will be tough in China as the timing of its entry has been late."
Lotte Mart first entered the Chinese supermarket business in 2008 through the acquisitions of the retailer Makro, a unit of Germany's Metro AG.
Lotte Mart currently has 107 outlets outside its home market, 82 in China, 23 in Indonesia and two in Vietnam, compared with 92 stores in South Korea. Although its overseas outlets outnumber domestic stores, overseas sales revenue is much smaller than domestic sales.
The sales revenue of non-Korean Lotte Mart stores was 2.6 trillion won ($2.4 million) in 2010, less than half the 5.9 trillion won achieved by the Korean outlets.
The South Korean retailer was quoted by media as saying that with an increase in overseas marketing, sales in non-Korean markets could start to outstrip domestic sales in four or five years.
A recent posting on the website of the China Chain Store & Franchise Association quoted a Yonhap News Agency report of a Lotte official saying the company will strengthen its presence in China through the aquisition of local companies, in addition to opening its own-brand outlets because China is the company's most important overseas market.
"The entry and expansion of foreign companies in China will definitely affect the local retail industry," said Wang Hongtao, press officer with the China Chain Store & Franchise Association. "But they will also bring good management, marketing and logistics strategies."
Earlier this week, South Korean media reported that Lotte Mart plans to move its headquarters to China.The relocation plan was originally revealed by Lotte Mart's CEO Noh Byung-yong in a report by Yonhap. "We will accelerate our opening of stores abroad and are mulling moving our headquarters to China when overseas sales exceed domestic sales," said Noh.
"We have heard about it (the report of the relocation plan), but we haven't had an official announcement from our headquarters," Guo said.
China Daily
(China Daily 08/13/2011 page9)