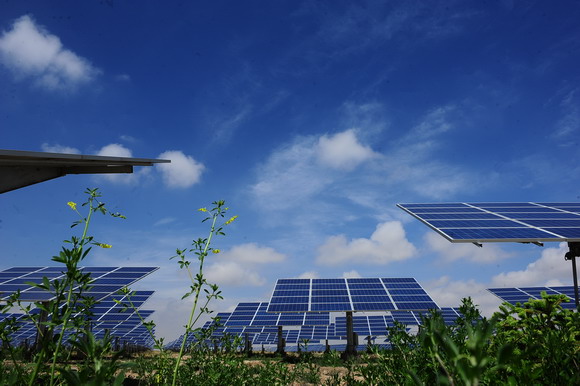 A solar power plant is pictured at the Talatan grassland in Qinghai province, June 19, 2013. [Photo / Xinhua]


NANCHANG - As the EU begins to impose punitive tariffs on Friday on a number of Chinese solar exports, the world's largest solar market, which once fueled China's wild solar expansion, is now behind the industry's slim-down.

The dust has finally settled on a long-standing spat between China and the EU -- a spat which once put the multi-billion-dollar solar trade at stake. Thanks to a compromise reached in mid-August, 121 Chinese solar makers, which together account for roughly 80 percent of China's solar exports to the EU, will continue to export their products to the bloc, but at prices and volumes that reduce their formerly dominant position in the market.

For Chinese firms not included in the deal, Friday effectively marks their departure from the once lucrative EU market, as a punitive tariff will price their solar products out of favor with European buyers.

"We have decided to give up the EU market," said Wang Yanli, general manager of Jiangxi Wafer New Energy and Technology Company Ltd, a solar maker with a production capacity of 300 megawatts, which has not been exempted from the EU tariff.

"The tariff will push our silicon module to five yuan per watt, much higher than the 4.2 yuan in the domestic market," Wang said.

Wang said the company has yet to lay off any of its 500 employees and is looking to sell in Japan and Australia, among other emerging solar markets.

Yet recovery may prove difficult as demand from these markets, though rising steadily, is far from enough to consume the massive photovoltaic (PV) capacity Chinese companies have accumulated over the years.

Inside an industrial park in East China's Jiangxi province, two small solar makers cannot hold out any longer to wait for the market to turn around. A staff member with the industrial park's management committee told Xinhua that months of losses have brought production to a halt at these two firms.

In Jiujiang, 145 km away, the city's 20 solar makers are now empty shells of their former glory. Some of the firms' owners told Xinhua they were "too sad to talk about it".

Yet all of these failures pale compared with Suntech's demise. The company was among China's top solar makers until a high-profile bond default earlier this year sent its shares spiraling down and forced it into liquidation.