China's family planning policy is to be eased at long last. The Third Plenum resolution, released on Friday reveals that China is to allow families in which either of the parents is a single child to have a second child, together with other reforms. The adjustment is considered to be a breakthrough in relaxing China's family planning policy. However, this step should be a beginning, rather than the end, of family planning policy reform.
Compared with the past overriding policy that required most families to have only one child, a relaxed population policy and allowing people to exercise their reproductive rights is a manifestation of greater respect and autonomy for people.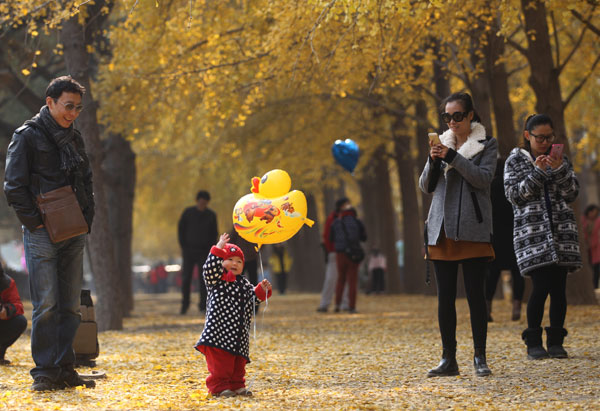 A mother photographs her daughter on a street outside the Diaoyutai State Guesthouse in Beijing on Friday. The street attracts many visitors every fall as one of the most popular places in the capital to view golden gingko tree leaves. PHOTO BY ZOU HONG / CHINA DAILY
Although more families are choosing to have one child or none for a variety of reasons, such as the rising cost of raising a child, there is no need for China to impose the mandatory one-child policy any longer.
From a broader view, the central authorities' decision to allow more families to have a second child is meant to reverse the already low fertility rate and maintain the country's young labor resources. A relaxed population policy will contribute to a rise in the fertility rate by a limited degree - it is unlikely to lead to a population explosion.
Based on the trial experiences of allowing a second child among four cities - Enshi in Hubei province, Yicheng in Shanxi province, Chengde in Hebei province, and Jiuquan in Gansu province - allowing couples to have a second child only raises the fertility rate to a limited extent. Even after granting people in the trial cities more chances to have a second child, the fertility rate remained low. According to the fifth national population census in 2000, the total fertility rate of these four cities was 1.31, a bit higher than the country's overall total fertility rate of 1.22. In 2010, the total fertility rate of the four cities was 1.52 compared with the country's overall rate of 1.18. Hence, even if the eased population policies are expanded across the country, the possibility of a national population explosion can be ruled out.
China has experienced imbalanced demographic development since the strict family planning policy was introduced in the late 1970s. The policy, which should have "advocated" one child for most families, has turned out to be a strict birth control policy under which most families are allowed to have only one child. Since 1992, China's total fertility rate has dropped to under 1.6, well below the replacement level which is widely believed to be 2.1.