One city in China is reviving the odd-even license plate measure to reduce air pollution.
Baoding, Hebei province, which borders Beijing to the northeast, began a trial run of the measure on Friday, the city's environmental protection authority said. The trial will last until Saturday.
Beijing introduced the measure before the 2008 Summer Olympics, but ended it in 2009.
Cars with plates ending in odd numbers were banned within the Second Ring Road from 7 am to 8 pm on Friday. Those with even-numbered plates are not allowed on roads during that timeframe on Saturday. Buses and special-use cars, such as ambulances and police cars, are exempt from the two-day plan. The city wants to see if the number of cars during the two days can be cut in half.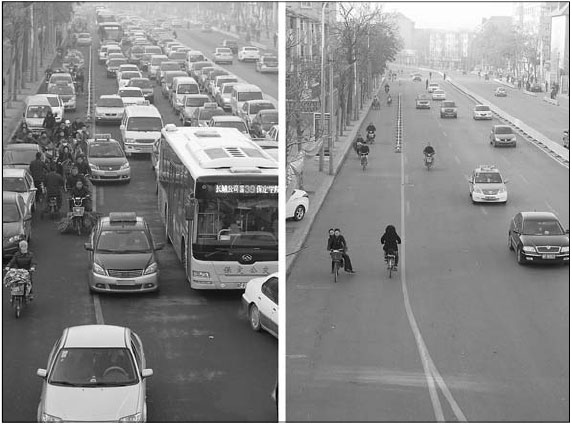 Heavy traffic Thursday thinned out at the same hour Friday in Baoding, Hebei province, when the city began a two-day trial run of an odd-even license plate measure. Suo Jing / For China Daily
Drivers will be asked to return their cars to their properties if they violate the rule. No fines or punishments will be handed out during the trial run.
"The test run will provide statistics to examine the impact of automobile exhaust on air pollution," said Chen Xintong, head of the publicity department under the Environmental Protection Bureau of Baoding.
There are currently 1.92 million cars in the city, of which 390,000 run in the downtown area.
The air quality index declined from around 300 pmi to around 160 by 4 pm on Friday, falling within light pollution levels, according to real-time statistics from the Ministry of Environmental Protection
Chen said experts in environmental protection will analyze data collected over the two days to help authorities with decisions concerning pollution in the future.
Environmental authorities will also collect suggestions and comments from residents after the trial.
"It has yet to be decided if this is going to be long-term plan," Chen said, adding that, if necessary, the city may implement more trial runs.
Some residents and experts thought the trial would make little difference in air quality and instead would make life more difficult.
Niu Niu, a tutor at Great Wall College at the China University of Geosciences, said: "I saw more people waiting for buses-more crowded and longer queues. There weren't more taxis on the road, so some were probably late for work."
Niu did admit that his drive to work was smoother on Friday morning.
"I think some will buy another car to make sure they can drive to work," he added.
Liu Xiaozhen, a resident of Handan in southern Hebei province, also had doubts about the effectiveness of the trial run but said at least the nation is beginning to make efforts to curb air pollution.
Like Baoding, the cities of Handan and Xingtai are listed among the top 10 Chinese cities with the worst air pollution in 2013, according to the Ministry of Environmental Protection.
Pressure from higher-level governments has forced cities to adopt traffic restrictions to curb air pollution. Handan conducted an odd-even license plate trial run on Oct 23 and Xingtai held its trials runs on Oct 22 and 23, though neither has released plans to have similar restrictions in the future.
"One or two days are too short to make any difference in air quality," said Wang Wei, professor from the College of Resources and Environmental Science at Hebei Normal University.
He said pollutants from the burning of coal will increase over the following months in Hebei province, making the reduction of cars on the road a moot point.
"The sweeping approach will cut down pollutants from traffic greatly, but it will bring huge impact to people's lives, making some buy another car. In the long run, it may not work well," he said.
zhengjinran@chinadaily.com.cn
(China Daily USA 11/18/2013 page4)