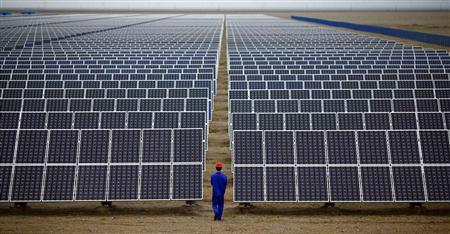 A worker inspects solar panels in Dunhuang, 950km (590 miles) northwest of Lanzhou, Gansu Province in this September 16  2013.[Photo/Agencies]
China's loss-making solar panel makers believe they may have found a way out of their nightmare - by becoming one-stop renewable energy shops with their own solar farms.
Manufacturers of solar panels, hit hard by the scaling back of solar-power subsidies in Europe, are taking advantage of a new package of government subsidies at home and diversifying into solar-power generation.
In an apparent bid to prop up its ailing solar panel sector that has been hit by overcapacity, as well as price and trade wars, Beijing unveiled a plan in July to quadruple solar generating capacity to 35 gigawatts (GW) by 2015. Construction costs are estimated at $50 billion.
Spurred by a package of initiatives from tariffs to tax breaks, and continued low panel prices due to global oversupply, many of the country's panel makers are now looking to invest in solar farms to help return to profitability, industry officials say.
"Definitely the trend is Chinese manufacturers will make more downstream investment," said a senior official at Chinese solar panel maker Canadian Solar. "Now the domestic market seems to be particularly exciting."
For manufacturers, generating projects mean a predictable source of demand for their panels. Manufacturers are still mostly losing money, although panel shipment has improved this year on orders from China, Japan and the United States.
Solar plant development is a more lucrative business. They offer an annual gross return of around 10 percent, depending on the proportion of debt financing and project location.
As solar panel prices tumbled following the 2008 global financial crisis, many Chinese wafer, cell or modules makers, like GCL Poly, Canadian Solar and Hareon ventured into solar power generation projects at home or abroad to offset manufacturing losses.
Overseas rivals such as SunPower and First Solar Inc, have also diversified into the higher-margin business as solar panel prices remain weak.