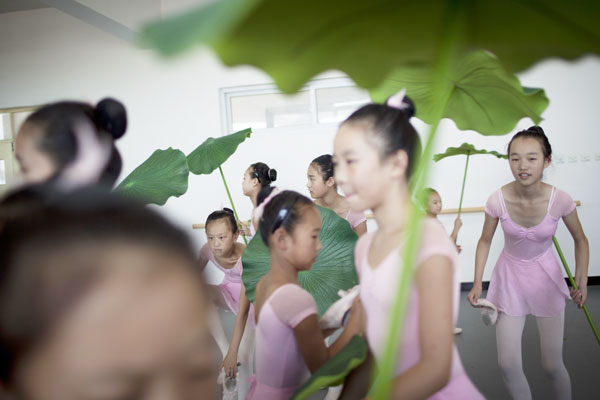 Students prepare to rehearse a ballet performance in the dance studio at a middle school in Anxin county.
Guan, 42, vividly remembers the day he met the girls for the first time.
Eighteen girls stood in a freezing classroom wearing heavy, colorful jackets, waiting for the class to begin. The classroom was not heated.
Having taught ballet for more than 20 years in various universities and performed in some of the best theaters worldwide, Guan was speechless at the scene, as the girls looked at him with their eyes full of hope and excitement.
The 18 girls were selected from more than 100 applicants from three primary schools.
Li Feng recalls the day when parents brought their children to him for the audition. "It was like the art test of the college entrance exam," he says.
The children and their parents have to start with the basics. Guan and Zhang's first ballet class started with stressing to the parents and children that they had to take off their shoes before entering the dance studio.
During their second class, Guan taught the parents how to help their girls to do up their hair.
"This is something that I have never done before," he says of that eventful day.
"The girls do almost anything that we tell them to 100 percent, no matter how hard it is."
Li Ziyi now spends her weekends taking ballet classes, and practices ballet two hours a day at home after school, on a yoga mat donated to every child by the foundation. Like many girls in rural areas, she is very shy and not talkative in front of strangers. But upon asking the question, "Do you love ballet?", her eyes light up.
"Very much," she says, smiling brightly.
Li Jiapei is a 20-year-old junior from the Central Academy of Music, majoring in the violin, an instrument she has been learning since she was 6.
Before volunteering as a teacher in Duancun, she used to spend her weekends teaching children or performing at weddings, which earns her about 200 yuan an hour.
The teaching condition in the village is not as desirable as Beijing, but Li says she enjoys the opportunity of experiencing countryside life.
Chen Guang, a professor of trumpet from the Central Conservatory of Music, has been motivating the university's students to participate in the teaching program from day one.
"Almost all our students have gone through strict training for at least 10 years in music before entering college, because the competition is so fierce," Chen says. "But whenever we ask our students to imagine about the wild, they can hardly picture anything. Most of them have never been there."
On Sept 28, all the students from the three villages in Anxin County will move into a new boarding school that Hefeng Art Foundation co-founded with the local government.
Art education will continue there, where a fully-equipped dance studio and music room have been built. The children's performances will include choir, ballet dancing, drama and symphony on the opening night of the boarding school. It will be the first-ever stage performance for the children there.
"I dreamed about learning a musical instrument as a teenager, but it was something impossible for us in the rural area," says Li Fang, mother of a 9-year-old girl who has been taking violin classes with the foundation for three months. "I am so excited about my daughter's upcoming performance that it's keeping me awake at night!"