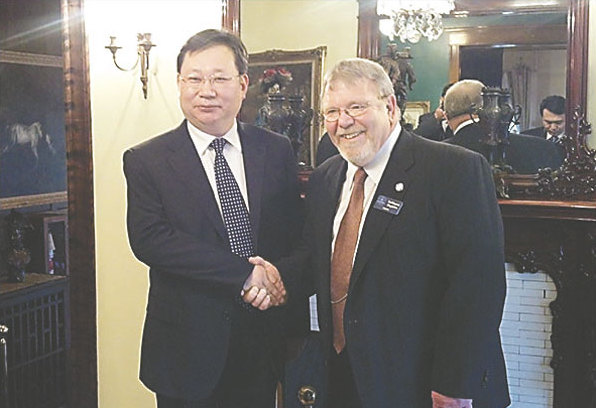 Yang Lizhong (left), chief of Zhengding county in Hebei province, shakes hands with DeWayne Hopkins, mayor of Muscatine in Iowa, after the signing ceremony of a sister-city agreement at the Muscatine Art Center on Monday. Provided to China Daily
Muscatine, a small Iowa city on the banks of the Mississippi River, welcomed special guests from Zhengding, a county in China's southwestern Hebei province on Monday. The Chinese delegation of eight, led by county chief Yang Lizhong, had a mission: sign a sister-city agreement with Muscatine.
"A relationship has to start with one person and that's what we are doing," said DeWayne Hopkins, mayor of Muscatine, before the signing ceremony at the Muscatine Art Center. "We are looking at this from a ground-floor level and I want to have a relationship with Zhengding and Yang, and hope he feels the same."
Yang was on a reciprocal visit, after Hopkins traveled to Zhengding in November.
With a population of just over 20,000, the Iowa city has made headlines since Xi Jinping, who took office as China's president in mid-March, visited the city in February 2012 as vice-president. Twenty-eight years ago, Xi, then a Party official in Hebei province, came to Iowa as part of a delegation studying agricultural techniques. Xi also served as deputy secretary of the local Party committee in Zhengding in the early 1980s.
Xi's visit to Muscatine last year was part of a weeklong official trip. In Iowa, he met with old friends including Sarah Lande, now 74, who had hosted Xi back in 1985.
Hopkins said Muscatine's local-level efforts in enhancing US-China exchanges were largely influenced by Xi's personal friendship with Muscatine residents.
"I feel extremely honored just being a part of that process," said Hopkins. who last year presented Xi a second gold key to express friendship from the city and its people.
The Muscatine Art Center has on display a painting by Chinese painter Chun Arthur Wang that depicts Xi holding the gold keys to the city from his 1985 and 2012 visits.
Yang said Zhengding and Muscatine are a perfect match, and his county can benefit from Muscatine's know-how in farming and other industries.
The Iowa city is home to some big names in American manufacturing including food producer Heinz and furniture maker HNI Corp.
Forming a sister-city agreement also enhances ties between their respective countries, Yang said, citing the existing state and capital relationships between Hebei and Iowa and Shijiazhuang and Des Moines.
"It is our responsibility to do more to promote exchanges of the two countries," Yang said.
He said the initiative started after Xi's 2012 visit. More interactions were made possible during Iowa Governor Terry Branstad's visit to Zhengding in June and Hopkins' in November. The Muscatine mayor oversaw a committee that worked on the sister-city pact.
With the sister-city agreement in place, participants have discussed plans such sending high-school students on short exchanges sponsored by businesses from each municipality.
Jenny Juehring, a 17-year-old high school student from Muscatine just returned from a two-week exchange program in Zhengding. It was her first time in China and she was impressed by her peers there.
"I had never met Chinese students before now. In America we usually just think they are very dedicated to their studies, but when I went there I saw they are friendly people - a lot like me," said Juehring, who plans to begin studying Chinese and hopes to go back to China at some point.
yuweizhang@chinadailyusa.com