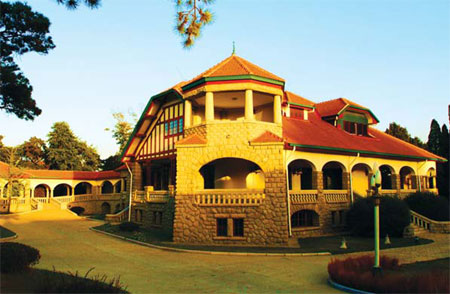 European-style villas were built as Westerners began to arrive in the 1890s. Provided to China Daily
Today a favorite vacation destination for Chinese officials and citizens alike, beachside Beidaihe was a small fishing village when English railway engineers provided a getaway in the 1890s from sweltering summertime Tianjin.
Wealthy Chinese and foreign diplomats built villas and the locale in Hebei province eventually became Westernized like only a handful of other places in China at that time.
By November 1948, when Chinese People's Liberation Army arrived at Beidaihe, the resort had 719 villas covering a combined 295,700 square meters.
Some 483 of the villas were owned by foreigners whose nationalities ranged from the United States and Great Britain to France, Japan, Russia, Italy, Belgium, Greece, Austria, Canada, Denmark, Spain, Switzerland, Ireland, Norway, Poland, India and South Korea.
Although the villas were built in various styles due to the different cultures of their owners, they share the same lifestyle of comfort, grace, personality and harmony with the nature.
Few of the villas are open to public, but many visitors still take pleasure in walking by to get a glimpse of the enviable setting.
But even without a villa, tourists still find Beidaihe charming.
Beidaihe's 100-meter-wide beach stretches for 10 kilometers of fine yellow sand. Shallow water is good for swimming, soaking and resting.
According to Lu Guotian, director at the publicity department of Beidaihe district, the authorities have now begun to promote tourism in all four seasons.
In spring, the theme is sports. A national cycling race and triathlon competition are held annually.
The summer topic is "romance." The local government departments invite Russian guests, mainly from dancing schools, to perform in Beidaihe.
Of course it also includes leisure, comfortable clothes, the warm beach and the sea.
Autumn belongs to fashion, with many stylish events including a modeling competition and a lovers' carnival.
Wintertime is a soothing slow pace when the snowy setting provides the opportunity for writing and other creative work.
Lu told reporters that local departments invite university students majoring in arts to sketch nature in Beidaihe. With scenic spots open, free of charge to them, the coastal resort has become a creative center for students from several renowned Chinese art universities.
It is also a popular destination for wedding photos as well as a locale for commercial films.
Lu said the district focuses on cultural details. For example, almost every single signpost and rubbish bin is delicately designed by art school students and has languages in Chinese, English and Russian.
In 2009, construction began on transforming the streets into a European style. Beidaihe attracts many visitors from both home and abroad. In peak seasons from July to September, it is even hard to book a single room in the area.
Contact the writer at xuxiao@chinadaily.com.cn