As of the end of Nov, Hebei province has received a record-high of 107,060,000 visitors from abroad, up 16.22% from 2010. According to the Hebei Tourism Bureau it is also the first time that the number of arrivals has surpassed the one million mark. Income generated from inbound tourism totaled $ 418 million, indicating an increase of 22.97 year on year.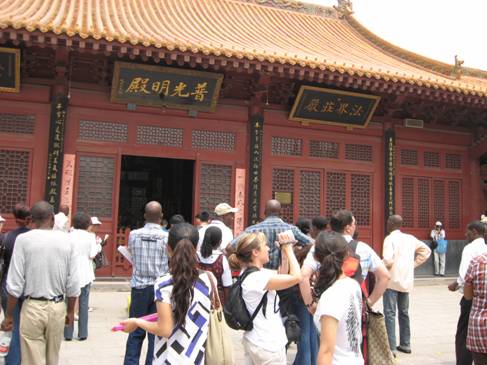 Foreign visitors at a time-honored Buddhist temple in Zhao County,Shijiazhang(Photo by Liu Xiang)
The number of Europeans visiting Hebei jumped to 353,900 (19.22 %), among which tourists from Britain and France, two major source countries of this area, grew 19.10% and 25.31% respectively. Tourists from America and Oceania also displayed strong growth, up 13.84% and 19.54%.
Heibei accommodated a total number of 181 million visitors for Jan-Nov, contributing to an increase of 25.26%. The total tourism revenue for the period surged 32.48% and reached 110,561 million yuan, fulfilling the target of 100,000 million arrivals for the whole year in advance.