The First Hebei Garden Fair will be held from May to October,2011 in Shijiazhuang, the capital of Hebei province. The Hebei provincial government, which is hosting the event, on Nov 2 unveiled the low-carbon design plan for the garden fair.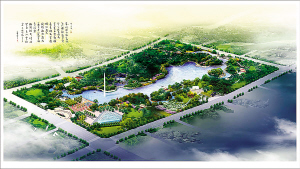 Beautiful scenery is part of the design of the Hebei Garden Fair.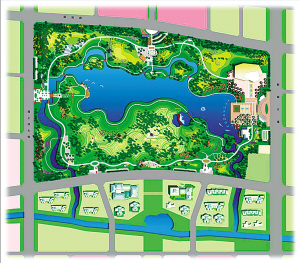 Design plan of Hebei Garden Fair.
The garden will be built in Zhengding New District of Shijiazhang, with beautiful surroundings and easy access to public transportation facilities. According to the design plan, the garden will cover a total area of about 917,000 square meters with water coverage accounting for 22.7% of the fair.
Functional area
The functional area is divided into a public section and exhibition section. The public section will include a main entrance square, waterfront landscape area, mountain recreation area and public green space.
The exhibition section will include several exhibit areas, including Yanzhao Garden, which will showcase the culture and scenery of Hebei province. A social exhibit area, will showcase distinctive landscapes in military, business and green communities. A specialized exhibit area will highlight medicinal plants and boast a miniature garden. Resting spaces in cultural atmosphere
There are several squares within the garden. In the squares, resting spaces will include special designs that embody Hebei's culture. There will be embellished story walls (Geng Village), sculptures of war drums (Changshan), sculptures of fan drums (Zhaozhou) and palace lanterns (Gaocheng).
Low-carbon and water recycling
Water recycling constitutes the basis for the whole ecosystem of the garden fair. Equipment will be installed to supply water to the garden lake, to recycle water, and to balance the water within the garden and water surroundings. Low-pollution wind energy, solar energy, marsh gas and LED (Light Emitting Diode) technologies will be used at the fair.
Sustainable use of the garden
A spokesman for the garden fair committee said the garden will become a permanent public green space for holding events such as flower arrangement exhibits, family gardening contests and flower culture lectures.
By Guo Changdong and Zhao Wenxiao