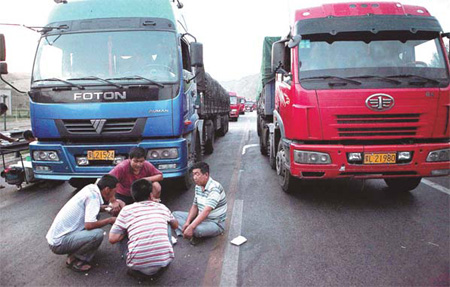 Stranded drivers play cards to kill time while waiting in the giant traffic jam on the Beijing-Tibet Expressway on Aug 16. The congestion was caused by construction work on the route. Provided to China Daily
ZHANGJIAKOU, Hebei - Looking at the congested scenes on the Beijing-Tibet Expressway, casual observers could be forgiven for thinking the drivers and passengers were having a good time.
Some played cards or chatted or smoked, others simply headed for shade and snoozed by the roadside.
One trucker sat back, turned up the volume on his radio and blasted out rock music. Attached to his wagon was a large trailer packed with cattle like sardines in a tin. Their tails swung in unison to swat away the flies.
Yet, the relaxed atmosphere could not hide the frustration.
"The air conditioning doesn't work when the bus is stopped," said a commuter on the roadside during the second jam (Aug 27 until Sept 5). "It's so hot inside, it's suffocating."
Gao Yunming, 32, who regularly drives coaches between Zhangjiakou in Hebei province and Beijing, was trapped with 40 passengers during the first bout of congestion (Aug 14 to 22).
"It usually takes less than three hours for the entire journey," explained Gao, who recalled that it took him four hours to move just 10 kilometers to the next exit, where he turned off onto National Highway 112.
"Using the bathroom is the biggest problem (for those trapped)," said Gao. "Some of the passengers would go at the side of the road but others were not willing to, so they just keep complaining."
After having experienced traffic jams on the route before, the driver said he never leaves home without emergency rations of instant noodles, buns and drinking water.
Villagers living by the expressway began selling food and bottled drinks to hungry and thirsty travelers as soon as the congestion began to build. However, many people complained about their inflated prices.
"The locals were taking advantage of us to make money," said truck driver Lu Yong, 37. "One meal, which barely made you full, cost about 20 yuan ($3)."
By selling instant noodles for 10 yuan and hot water for 2 yuan a cup, villagers reportedly made about 500 yuan a day during the jams.
China Daily
(China Daily 09/14/2010 page1)