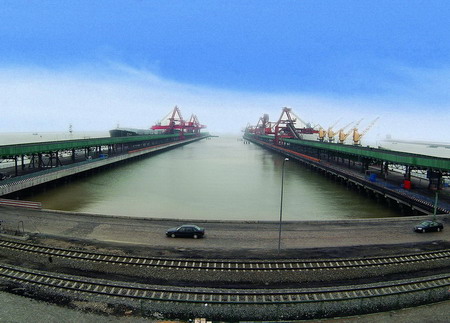 The Huanghua Comprehensive Port in Cangzhou. Provided to China Daily
Cangzhou, a city in Hebei province, aims to further develop the Cangzhou Bohai Sea New Area this year, Zhang Lizhong, deputy director of the new area's management committee, said at a recent media conference.
In the southeast of Hebei province, the 2,400 square kilometer new area has 130 km of coastline and is at the heart area of the Bohai Sea region, the third-most important national economic center following the Yangtze River and Pearl River deltas.

Just an hour's drive from Tianjin and two hours to Beijing, the area serves as an important hub connecting Hebei province and eastern China with the west.
"During this year's Two Sessions, the governor of Hebei province Chen Quanguo emphasized the urgency in developing the new area," said the deputy director.
"The governor asked the entire province to boost the development of Huanghua, Qinhuangdao and Caofeidian, three port cities with millions of people. The goal is to build a continuous coastal urban area along the east of Hebei province."
In 2009, the new area had 24 billion yuan in GDP, an increase of 16.5 percent compared with the previous year. Fixed assets investment totaled 27.2 billion yuan, a surge of 59.2 percent.
Its fiscal revenues reached 3.71 billion yuan, a 36.2 percent increase.
"It is estimated that by the end of this year, the area's financial income will surpass 5 billion yuan, and will break through 10 billion yuan by the end of 2013," said Zhang.
Advantages
Huanghua Comprehensive Port is the second link in the nation for transport of coal from western China to the east and handled 80 million tons last year.
The area has over 1,700 sq km of land available so "as long as there is construction, the government will provide land and services," Zhang said.
Its highways, railways and airports are also crucial to boosting the economy.
As well, "rich energy resources, including oil, coal and electricity, will guarantee development," Zhang added.
Zhang told China Daily that the government's work is based on building big ports, cultivating big industries and developing big cities.
The deputy director said that the new area also has to build a recycling economy and boost the development of environmentally friendly industries.
Source: China Daily