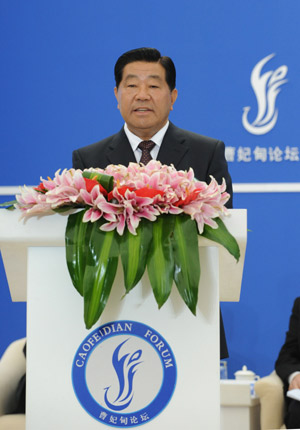 Jia Qinglin, chairman of the National Committee of the Chinese People's Political Consultative Conference, speaks at the opening ceremony of the First Caofeidian Forum in Tangshan city of North China's Hebei province, Oct 16, 2009.[Xinhua]


Top Chinese political advisor Jia Qinglin Friday called for international cooperation, shared responsibility and dialogue to promote sustainable development worldwide.

"Green development should be a common cause for the world," said Jia, chairman of the National Committee of the Chinese People's Political Consultative Conference, at the opening ceremony of the first Caofeidian Forum held in Tangshan, northern Hebei province.

He suggested that the government of all countries should develop their own roadmap of green development based on the reality of their countries and adopt effective policies.

"It is a shared responsibility for the world to improve energy efficiency and reduce greenhouse gas emission," he said.

He called for developed countries to lead the cause and provide financial and technical support for developing countries to cope with climate change.

New technologies in energy saving, environmental protection and new energy application should be widely used, he said. "The international society and governments of all countries should strive to set up a new mechanism that smoothes international technological exchange while protecting intellectual rights."

Jia also suggested that the world should explore sustainable development through dialogue.

"China will stick to the sustainable development," he said. "We will work to build a resource-saving, environmentally-friendly and innovative country."

The three-day forum was the first permanent international forum themed on the sustainable development initiated by China. It will be held every two years.

Jia visited a district that features good ecological protection and Caofeidian, a model district of scientific development in Tangshan.

"Caofeidian shall set a good example of developing recycling economy and promote scientific development," he said.

Jia's also visited the new factory of the state-owned steel giant Shougang Group, which was moved from Beijing suburb to Caofeidian in 2007.

He said he was glad to learn that the new factory applied the latest technologies and adopted full recycling measures.

The move helped reduce the environmental pollution in Beijing and brought a chance of technical updating to the factory, he said.

Jia also visited an electronic vehicle plant and a city park which was transformed from a deserted coal mine.

Tangshan was known for a 7.8-magnitude earthquake that hit the city in 1976 and claimed more than 242,000 lives.

Jia paid tribute to the earthquake victims at the earthquake monument park in Tangshan.