Chen Jun initially planned to drive to Yunnan province after a quick stopover at the Huangguoshu Waterfall in Guizhou, but in nearby Huashishao village, he found reason to stick around.
Enchanted by the old folk customs, beautiful scenery and the unique architecture, Chen said it was difficult to leave.
"Self-driven travel is very tiring, so we wanted to find a place for some rest. Luckily, I found this village where I could relax and enjoy local folk culture. That is just the charm of the Huashishao village," Chen said.
A landmark tourist destination in Guizhou, Huangguoshu Waterfall always draws visitors with its natural splendor. It is attractive not only for its landscape but also the surrounding ecological culture, Chen added.
The village, populated mostly by people of the Bouyei ethnic group, is now home to a number of folk-style inns and resorts managed by a local tourism company, which has invested 5 million yuan to rebuild eight houses with 41 rooms and 71 beds.
They received more than 1,000 travelers in less than a month after opening in July last year, according to Tang Tao, an executive of the company.
The development of the village is considered a "successful model" for it promotes tourism and provides jobs to locals while conserving the waterfall area's ecology.
The 41-year-old Luo Zhaohui is one of the villagers cooperating with the development company to open an inn in his rebuilt house. The company has spent 800,000 yuan to decorate the house, and pays him 2,000 yuan rent each year, plus a monthly salary of 1,200 yuan.
For those who want to escape from the hustle and bustle of the cities, the traditional Bouyei village has provided a place for them to enjoy idyllic country life in a pristine ecological environment.
The Huashishao model is actually a miniature of Huangguoshu Waterfall's ecological restoration project.
Ecological restoration also offers "a golden opportunity" for the transformation and upgrade of Huangguoshu's tourism, which is symbolic in Guizhou, said local officials.
The model is also a means to make the waterfall area a destination in its own right rather than a stop on the way to somewhere else, said Zhou Yunhong, general manager of Guizhou Huangguoshu Tourism Group Co Ltd.
"Highlighting the Bouyei culture centered in Huangguoshu is our present priority", he said.
Yang Kaihua, Party secretary of the Huangguoshu scenic area's administration, plans to develop the waterfall into one of the nation's premier internationally known first-class resorts.
"Huangguoshu must forge unique ethnic cultural elements to attract more foreign visitors because culture is the soul of tourism," said Yang, adding that more cooperation with other cities in the Pan-Pearl River Delta is necessary.
As a member of the Pan-Pearl River Delta cities, Guizhou attaches great importance to cooperation in ecological tourism. Due to Huangguoshu Waterfall's leading role in provincial tourism, it should take the responsibility to promote the scenic area's ecological construction and share experiences in the meantime, Yang said.
Guizhou Governor Chen Min'er suggested that the integration of all resources would help the province upgrade its tourism and leisure industry, and build the province's brand throughout the world.
"Our goal is to make Guizhou a world-famous tourist attraction. We need to learn experiences from developed countries," said Fu Yingchun, director of Guizhou Tourism Administration.
He noted that regional tourism cooperation, especially with the Pan-Pearl River Delta cities, is crucial to making Guizhou's tourism more international. The province also should take the initiative to explore more avenues of cooperation.
"Thanks to new means of transport and tourist destinations, we intend to create regional tourism products to seek trans-provincial cooperation," Fu said.
The statistics from Guizhou Tourism Administration show that Guizhou has received 130 million tourists in the first half of the year, an increase of 25 percent year-on-year, which has led to revenue of 106 billion yuan, up 27 percent.
lijun@chinadaily.com.cn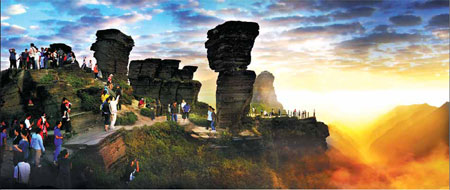 Tourists enjoy the natural beauty of Fanjing Mountain in Tongren city, Guizhou province. Luo Aiyu / for China Daily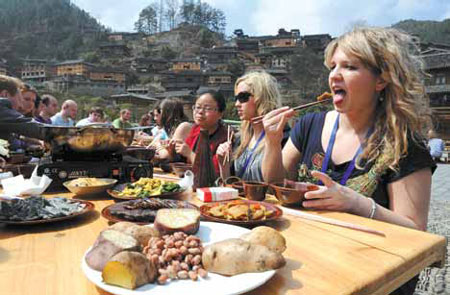 Foreign tourists at a Miao ethnic village in southeastern Guizhou taste distinctive local food placed on a long table. Zhao Hui / for China Daily