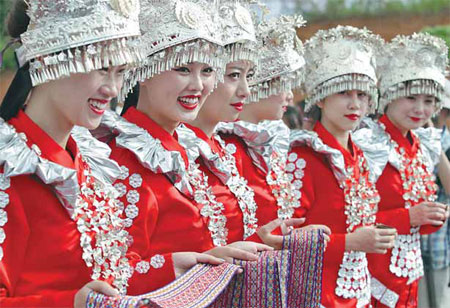 Miao women in a line, dressed up with silver ornaments, welcome visitors at the entrance to the fair, which opened on Tuesday in Guizhou province. Zhu Xingxin / China Daily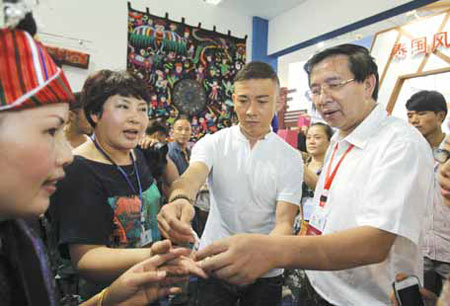 Li Feiyue (first from the right), Party chief of the Qiandongnan prefecture, examines a silver ornament during his inspection of the exhibition. Zhu Xingxin / China Daily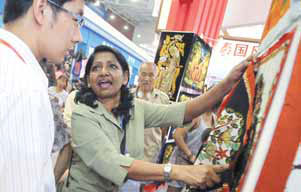 Chula Samarawickrama from Sri Lanka shows off her exhibits. Zhu Xingxin / China Daily
The sixth China Kaili Original Ecological Folk Culture and Art Festival and 2013 China (Guizhou) International Folk Artworks Fair opened on Tuesday in the Qiandongnan Miao and Dong autonomous prefecture, Guizhou province and will last through Friday.
The events provide a stage for the prefecture to showcase its rich cultural resources to tourists from around the world, organizers said.
With the help of modern technology, various cultural characteristics of the Miao and Dong ethnic groups in Qiandongnan are on show.
The events began with a live performance on the lake at the Ethnic Culture Park in the host city of Kaili. The performance, inspired by the Miao, Dong and Yao cultures, featured native customs and presented the cultural richness of Qiandongnan to the audience.
Combining different performing arts and using Kaili's real landscape as the backdrop, the show created a spectacle imbued with the charms of the local cultures.
Held at the same time, the 2013 China (Guizhou) International Folk Artworks Fair and the second China-Kaili Silver Embroidery Exhibition are also highlighted with the unparalleled folk culture in Qiandongnan.
The exhibitions display exquisite folk artwork from 18 provinces, cities and areas in China, Vietnam and Malaysia. It is the first professional exhibition of this type of silver and embroidery in China.
In the Qiandongnan prefecture, a region known for its well-preserved folk culture, the silver ornaments and embroidery of the Miao people has been enlisted in the national intangible cultural heritage.
Qiandongnan is known as "King of Silver" for its exquisite workmanship.
The production of silver ornaments in the prefecture involves more than 30 steps, and many of the processes involved require specialized skills honed over generations.
The many varieties of ethnic Miao and Dong embroidery are famous nationwide for their superb craftsmanship.
In addition, renowned exhibits from traditional embroidery hubs like Suzhou and the provinces of Hunan, Sichuan and Guangdong as well as other new centers, such as Hangzhou and Changzhou, are also on display, providing a glimpse into diverse embroidery expertise across the country.
Also, there are displays of thangka, a traditional Tibetan form of textile painting, as well as bronzeware from Shaanxi, new year paintings from Shanxi, Jun porcelain from Henan, Jingdezhen ceramics and Chiang Mai wood carvings from Thailand.
A series of forums and other events during the expo will provided rich options for visitors to fully experience every aspect of local culture.
liyang@chinadaily.com.cn
(China Daily 07/24/2013 page24)