Jiaxiu Building, an ancient complex that was initially built in Ming Dynasty (1368-1644), is now a landmark of the provincial capital Guiyang. The well-preserved ecosystem adds appeal to the province. (Provided to China Daily)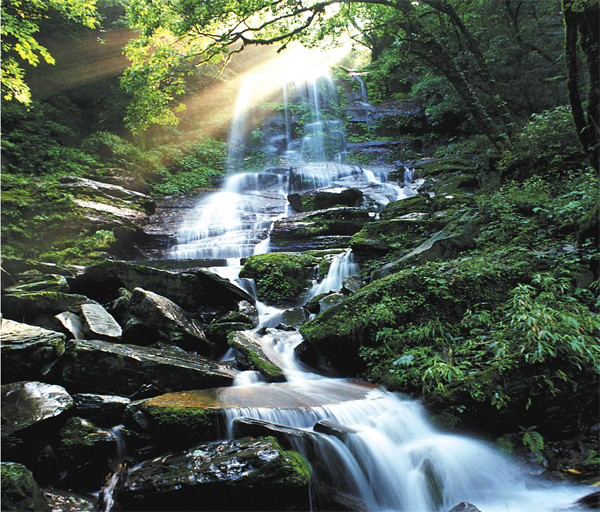 Streams meander through Fanjing Mountain in the eastern region of the province. (Xie feng / for China daily)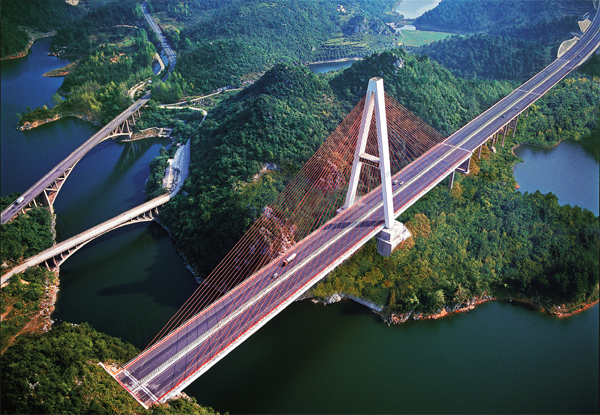 Guizhou has an advantageous geographical position. It neighbors border provincial economies Yunnan and Guangxi to the south, western inland hub Sichuan to the north and Hunan to the east. (Provided to China Daily)
The provincial government of Guizhou is looking to harness the power of the Hong Kong market through an investment and trade promotion event that opened in the special administrative region on Sunday.
First held in 2011, the annual weeklong overseas event is the largest of its kind for the inland province in Southwest China. It serves to expand regional exchanges between the two sides, according to local media.
Last year, the provincial delegation signed about $11.59 billion trade contracts and agreements on a total of 82 investment projects worth nearly $16.52 billion combined.
The deals covered various sectors, including resource processing, equipment manufacturing, strategic emerging sectors, cultural industries, tourism, finance, modern services and agriculture.
To facilitate this year's promotional event and enhance financial cooperation, the provincial government sent a delegation in January. At the time, renowned financial institutes and investment firms were briefed on more than 30 Guizhou projects.
"Guizhou is a multi-ethnic, mountainous province. Though it remains less developed economically, the province has rich energy and mineral resources, is well-positioned geographically and thus has huge development potential," said Zhao Kezhi, Party chief of the province, during this year's National People's Congress in March.
"We are integrating eco-civilization into the entire construction process of economy, politics and culture," Zhao said.
Through a focus on preserving the environment while promoting economic growth, local authorities are trying to enhance the province's sustainable development, he noted.
Guizhou has long been on a path of economic development based on the concept of ecological civilization, which is expected to draw more investors to the province, he added.
Ma Yun, CEO of Chinese e-commerce giant Alibaba Group, said in a recent interview: "If there are three places that are developing best in the country, Guizhou must be the third one."
"If you missed the investment opportunities in Guangdong and Zhejiang provinces three decades ago, today you can't miss those in Guizhou," Ma said.
To accelerate industrialization, urban expansion and agricultural modernization, the provincial government has mapped out a developmental blueprint earlier this year.
According to the plan, the authorities have made it a priority to build 100 industrial parks, 100 modern agricultural demonstrational parks, 100 towns and 100 urban complexes and 100 tourism sites.
The authorities pointed out Guizhou's advantages in terms of policies, geographic position, mineral and ecological resources, manufacturing industry and tourism to businesspeople from Hong Kong during seven investment promotion meetings in March.
The provincial government recommended the "Five 100-Project" initiative. "They provide enormous space for development," local officials said. "We welcome entrepreneurs to Guizhou for business inspection, investment, travel and sightseeing."
The projects have increased Guizhou's desire for investment.
In March, a trade delegation headed by Party chief Zhao and Governor Chen Min'er brought a project group involving nearly 1.7 trillion yuan ($276.1 billion) to Beijing to solicit investors nationwide.
"We are now speeding up construction of infrastructure and eco-security systems," Chen said. "We'll go all out to offer sound services to companies and create a business-friendly environment."
Another investment briefing took place in April in an effort to attract investors from the Yangtze River Delta. Through the event, agreements on more than 122 projects were signed worth a combined total of more than 131.5 billion yuan.
Coming on the heels of a series of promotional events on the mainland, the Hong Kong investment week is a sign of the ambition and openness of Guizhou's government.
Governor Chen said he believes that Guizhou is attractive to investors in terms of five aspects — resources, ecology, population, policy and reform.
One meaning of the Chinese character gui, the first part of the province's name, is "treasure", Chen said.
"I hope that we will make full use of the diverse resources in the province and let investors reap the rewards. It is the right time to invest in Guizhou."
Contact the writers at zhaokai@chinadaily.com.cn and sujiangyuan@chinadaily.com.cn