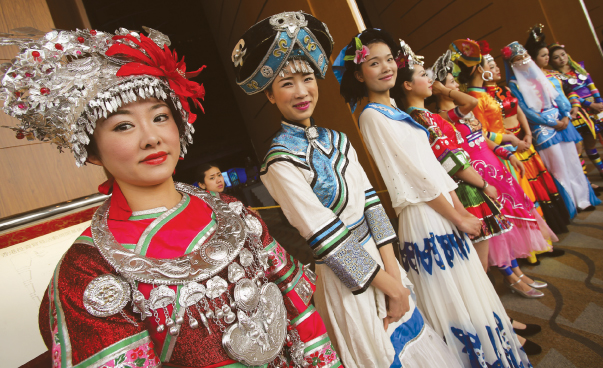 (From left to right) Song Zhe, commissioner of the Ministry of Foreign Affairs in the HKSAR; Zhang Xiaoming, director of the Liaison Office of the Central People's Government in the HKSAR; Zhao Kezhi, Guizhou provincial Party secretary; Chief Secretary for Administration Carrie Lam Cheng Yuet-ngor; and Guizhou Governor Chen Min'er pose for a photo at the 2013 Guizhou-Hong Kong Investment and Trade Week at the Hong Kong Convention and Exhibition Center on Tuesday. (Photos by Edmond Tang / China Daily)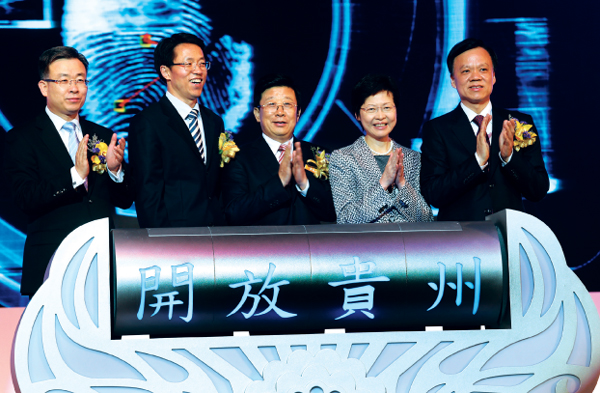 Receptionists wearing the costume of ethnic groups from Guizhou province welcome guests during the opening ceremony of 2013 Guizhou-Hong Kong Investment and Trade Week at the Hong Kong Convention and Exhibition Center on Tuesday.
Guizhou began a bid to showcase its assets and go global at the contract-signing ceremony of the 2013 Guizhou-Hong Kong Investment and Trade Week on Tuesday.
"Guizhou and Hong Kong are both located in the Pan-Pearl River Delta region, and Guizhou needs to accelerate its development, especially its close cooperation with Hong Kong in terms of geographical complementary advantages," says Zhao Kezhi, Guizhou provincial Party secretary.
Zhao says the purpose of the trade week is to highlight Guizhou's dedication to reform and development, and seek practical collaboration with Hong Kong, Macao and Southeast Asian countries through the platform of Hong Kong.
Chief Secretary for Administration Carrie Lam Cheng Yuet-ngor said Hong Kong can play a bigger role in Guizhou's future development.
"Hong Kong has more experience in tourism and financial industries, which are quite needed for Guizhou. We hope to offer more help to Guizhou's development, and enhance Hong Kong's leading position as a financial center," Lam says.
Chen Min'er, governor of Guizhou, says the province is working on building two key platforms: one is the construction of Gui'an New District; the other is the "Five 100 Programs", which Guizhou is promoting to attract leading foreign companies.
The "Five 100 Programs" — including 100 industrial parks, 100 modern agricultural demonstration gardens, 100 small model townships, 100 city complexes and 100 tourist sites — were set up to help attract investors from Hong Kong, Macao, Taiwan and Southeast Asian countries.
In regards to investment in industrial parks and development zones, Guizhou has transformed its investment approach from a focus on infrastructure to industrial development.
Chen stresses that is also the big difference compared with previous events. "These two platforms will provide more business opportunities for external investors," he says.
This week, the province aims to sign as many as 33 investment project deals in the city, with an investment value of $22.9 billion. Meanwhile, 22 trade contracts totaling $2.56 billion will also be inked.
"Now is the right time to invest in Guizhou," says Zhao, adding that Guizhou is becoming a valuable investment heaven with many advantages, such as fast urbanization, improved transportation, abundant resources and tourism.
Covering 176,000 square kilometers, Guizhou has experienced accelerated development in recent years, and average GDP growth rate for the last five years has been 12.8 percent.
Last year, GDP grew by 13.6 percent, reaching 680 billion yuan ($111 billion). And the province's imports and exports totaled $6.63 billion in 2012, up by 35.7 percent year-on-year.
In 2012, the State Council approved and issued proposals aiming to further promote a sound and fast economic and social development of Guizhou, with seven supportive policies in revenue, investment, finance, industry, land resources, human resources and oriented assistance.
This week marks the third iteration of the Guizhou-Hong Kong Investment and Trade Week in Hong Kong since 2011.
In the previous two campaigns, the province signed 132 contracts with total investments of $29.9 billion, together with 22 trade contracts totaling $11.3 billion.
Chen says that these have become important engines for Guizhou's fast economic development.
Hong Kong has traditionally maintained a close investment and trading relationship with Guizhou. As early as 1978, Guizhou was exporting goods to the city.
In 2011, the total import and export between Guizhou and Hong Kong amounted to $22.79 million, up by 39.7 percent, with Guizhou exporting $22.78 to Hong Kong, mainly cell phones and Chinese liquor.
As of the first quarter of 2012, Hong Kong investors had set up 700 projects in the province, with total investments of $3.20 billion. Hong Kong has become a major investment source for Guizhou, accounting for more than 70 percent of the total investment from overseas in recent years.
Since 2010, 88 Hong Kong companies have achieved satisfactory results from their investment in Guizhou, says Zhao.
The infrastructure for greater cooperation between these two regions is also maturing.
Last June, direct flights began between Hong Kong and Guiyang, capital of Guizhou. Guiyang has also been authorized to issue individual visit visas to Hong Kong.
The Guizhou and Guangdong sections of the Guiyang-Guangzhou Expressway have been completed, while the Guangxi section is under construction.
Zhao says that the Guiyang-Guangzhou High-Speed Railway, though still under construction, will also create a fast connection between Guizhou and Hong Kong.
Chen says that through deepening cooperation between Guizhou and Hong Kong, both sides will combine advantages and strengths, and further explore collaboration in the fields of finance, industry, manpower and education, as well as tourism.
"We welcome Hong Kong investors to set up branches and subsidiaries in Guizhou; to invest or trade in Guizhou and help Guizhou companies participate in international exhibitions; to collaborate in manpower and education; and to participate in the construction, management and marketing of tourist sites in Guizhou."
linjingcd@chinadaily.com.cn