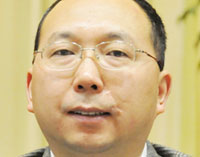 Xia Qingfeng, mayor of Tongren, Guizhou province
Xia Qingfeng, mayor of Tongren in Guizhou province, is determined to lead more than 1 million people to prosperity by boosting the economy with ecological concepts over the next decade.
The 43-year-old official held various posts on finance before he was appointed Tongren mayor last year. This experience gave him a lot of ideas to develop the economy in the poverty-stricken city, he said.
Last year, a few words that a visitor told him further refreshed some of his ideas.
"The visitor coming from Hong Kong slept one night at a hotel in the Fanjing Mountain scenic spot in Tongren. After that, he felt really good and feeling even better than after sleeping in Hong Kong for three or four nights," Xia said.
Local clean air helped the visitor get a good night's sleep. Negative ions of oxygen, which are beneficial to humans, are up to about 120,000 per cubic centimeter, he said in an interview on the sidelines of the annual session of the National People's Congress in March.
The mayor, who worked in Beijing for over 10 years before starting his career in Guizhou in 2002, admitted that the province now is the weakest link in China's drive to build a moderately prosperous society by 2020.
"Economic development in China's western regions, including Guizhou province, is lagging compared with other regions in the country. But the local ecological environment now is well protected, which is a source of the advantage of backwardness," Xia said.
The mayor is confident in the city, given its natural landscape and special culture of various ethnic groups. "It is surely that visitors outside the province and even from overseas countries will be attracted to the city. Someone maybe decide to move here in the future," he said.
Currently, more than 1 million people in Tongren still live below the country's poverty line of 2,300 yuan ($370) last year, according to local official figures.
The mayor said an overall economic boost will help lift those people out of poverty by 2020.
In 2012, the State Council announced the further promotion of sound but rapid economic and social development in Guizhou in a document outlining a series of policies allowing the province to protect its ecology, strengthen industrialization and urbanization, and accelerate economic development.
The document is seen as a move to speed up development so that Guizhou catches up with more economically advanced provinces and regions.
Because Tongren is one of the nearest cities in China's western regions with the country's central and eastern parts, many industrial transfers will be foreseeable, Xia said.
"Meanwhile, we set strict standards on environmental assessment before all the projects being launched in the city because protecting local ecology is the top concern," he said.
"For the city itself, besides local tourism, the development on industries, including equipment manufacturing and new energy, will be strengthened," he said.
For instance, the city has about 1.2 trillion cubic meters of proven reserve of shale gas resources, a lower-carbon fuel alternative compared with coal, local official figures showed.
Government authorities will give full support to investors, including those from overseas, to participate in the development and use of such mineral resources, the mayor said.
Local vocational education focusing on popular industries, such as tourism professionals and machinery maintenance, now has been speeded up to cater to possible increasing labor demands, he said.
Contact the writers at jinzhu@chinadaily.com.cn and sujiangyuan@chinadaily.com.cn
BIO
Xia Qingfeng, born in September 1969, started working in 1991. He joined the Communist Party of China in March 1991 and holds a master's degree in public administration.
July 1991
He began his career in personnel work and then held various financial management posts in Beijing before he joined the Guizhou Committee of the Communist Youth League of China in 2004.
October 2006
He started serving as a member of the Standing Committee of CPC Qiannan Prefectural Committee in Guizhou province.
January 2012
He became deputy Party chief and mayor of Tong-ren of Guizhou.
FACTBOX
A glance at Tongren, Guizhou province
Population: 4.2 million
Area: 24,000 sq km
GDP in 2012: 44.7 billion yuan ($7.2 billion), a 17 percent year-on-year increase
Per capita disposable income of urban residents in 2012: 16,338 yuan, an 18 percent year-on-year increase
Rural per capita income in 2012: 4,802 yuan, a 20 percent increase from 2011
Source: Tongren city government