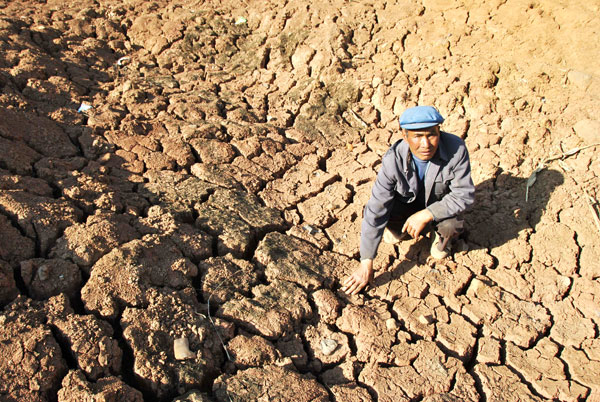 A parched pond in Weining county, Guizhou province, shows the severity of a drought hitting southwestern areas. [Photo/China Daily]
No rainfall expected in parched southwest for at least nine days
Every day, Zhu Chunquan walks 16 kilometers through the mountains of Southwest China to fetch water for his family.
His village, Ziniu, in Yunnan province, has not seen a drop of rain since February.
"No one knows when the drought will end," the 48-year-old farmer said, as he looked at the dry soil.
Apart from the sale of dry apricots from his 1 hectare orchard, he has made no money this year. Some of his neighbors have gone to Kunming, the provincial capital, to find temporary work.
The drought that has crippled southwestern regions since last year has shown little sign of abating, affecting the water supplies of millions of people.
According to the China Meteorological Administration, no rainfall is expected in parched areas, including Yunnan and Sichuan provinces, for at least nine days.
Li Xiaoquan, a meteorologist for the administration, said the drought may ease when the rainy season begins in May.
This is the fourth year Yunnan has suffered a severe drought, said Kong Chuizhu, vice-chairman of the standing committee of the Yunnan people's congress, and the problem is expected to continue.
Climate models show rainfall patterns are changing, and the National Climate Center predicts a possible decrease in precipitation in the south over the next 20 years.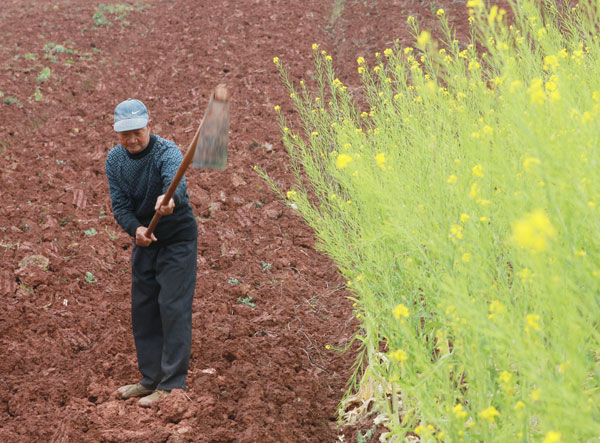 A farmer works the land in Dutang village, Sichuan province, after clouds were seeded to bring much-needed rain. The area has been experiencing a prolonged drought since last year. [Photo/China Daily]
Although farmer Zhu said he does not believe "rainy Yunnan" will one day be dry, he has still sold all his sheep and cows since the severe drought of 2010.
As of March 7, 2.3 million hectares of land in Yunnan and Sichuan had been affected by the drought, with more than 1.5 million people and 880,000 animals facing water shortages.
About 417,800 people in Guizhou province have seen temporary shortfalls in drinking water, Xinhua News Agency reported on Monday. It added that authorities are taking measures to guarantee supplies.
In drought-hit Neijiang in Sichuan, the city weather bureau engaged in cloud seeding on Monday to induce rain.
Kong said Yunnan plans to build 400,000 cisterns every year from 2013 to 2015 to help residents store water and collect rainwater.
However, Zhou Yuping of the Lantian rescue team, an NGO that helps people affected by natural disasters and has been helping people in Yunnan fight drought for three years, said building cisterns is far from enough.
"Cisterns mainly collect rain in wet seasons (May to October), but people use the water in cisterns several months after it is collected," he said.
Building roads and water channels are what people need most, he added.
"With roads, people can go out to make a living and with water channels, water can be diverted from nearby rivers," he said.
Contact the writer at wangqian@chinadaily.com.cn and guoanfei@chinadaily.com.cn