Longqiao Grand Canyon Scenic Area
By (chinadaily.com.cn)
2020-05-06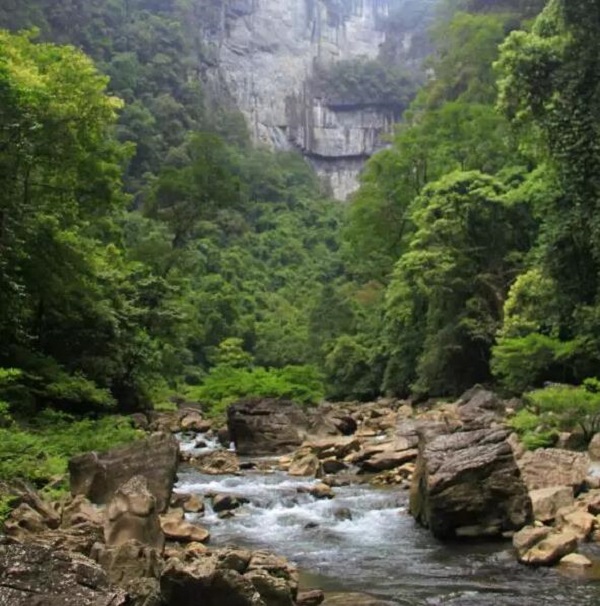 Longqiao Grand Canyon in Huanjiang Maonan autonomous region, Hechi. [Photo by Wei Shuzhong/gh_451d26769981]
Longqiao Grand Canyon Scenic Area is in Longyan township, Huanjiang Maonan autonomous county, Hechi. Located at the west foot of Jiuwan Mountain, it is 110 kilometers away from the downtown area and close to the famous Wenya Tiankeng Group in Jiuwan Mountain National Nature Reserve.
Boasting convenient transportation and a unique location, the scenic area is involved in the circle of tourism attractions in Hechi.
After millions of years of weathering and erosion, a wonderful landscape has formed in Longqiao Grand Canyon. The scenic area is named after a natural stone arch bridge in the valley, known locally as "Longqiao," meaning the dragon bridge.
Longqiao Grand Canyon has an average altitude of 800 meters and its highest peak is 1,100 meters. It possesses a unique climate with the average annual temperature remaining at 20 C, making it a comfortable summer resort. The annual rainfall is more than 1,000 mm, the vegetation in the canyon is well preserved, and the forest coverage rate is over 95 percent.
Many kinds of plants and wild animals can be seen in the virgin forest. In addition, tourism projects have been developed, such as canyon sightseeing, adventure and leisure activities, as well as summer vacation facilities.