Hechi starts construction of pharmaceutical industrial park
By (chinadaily.com.cn)
2020-01-06
Construction of the first phase of the pharmaceutical fine chemical industrial park in Hechi started on Jan 2, with its foundation stone ceremonially laid the same day at the city's Daren Industrial Park.
The industrial park aims to boost the development of the bio-medicine and health industries in the city.
The park is planned to have a total investment of 8.1 billion yuan ($1.16 billion), and cover an area of 2,872 mu (191.47 hectares). Construction will be divided into three phases.
The first phase of the project will be invested with 1.1 billion yuan and use 372 mu of land. The second phase is set to have an investment of 2 billion yuan and span an area of 1,000 mu, while the third phase will be funded with 5 billion yuan and cover 1,500 mu.
It is expected that an annual output value of more than 30 billion yuan will be achieved after completion of the project, good for about 8,000 jobs and taxation amounting to more than 6 billion yuan.
To date, settling down of seven enterprises, including Shandong Sihuan Pharmaceutical Co Ltd, Zhejiang Xieshi New Material Co Ltd, and Zhengzhou Fuyuan Chemical Industry Co Ltd, has been confirmed in the first phase with total investment of 450 million yuan.
After completion, projects invested by the seven enterprises are expected to achieve an annual output value of 1 billion yuan and pay 70 million yuan in taxes.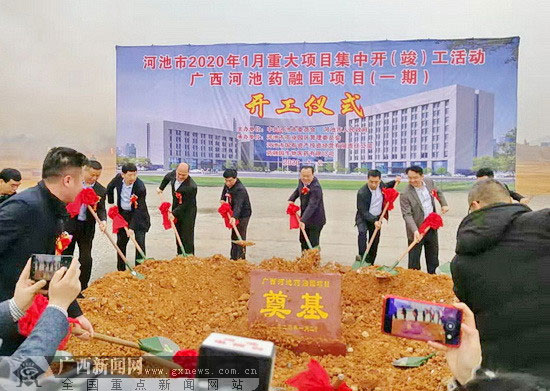 The foundation stone laying ceremony for the first phase of the pharmaceutical fine chemical industrial park in Hechi is held on Jan 2 at the city's Daren Industrial Park. [Photo by Qin Zheng/gxnews.com.cn]