Projects valuing $11.1m signed in Hechi
By (chinadaily.com.cn)
2019-12-09
Several projects with a total contract value of 78 million yuan ($11.1 million) were signed at the agricultural products production and marketing matchmaking activity held in Yizhou district, Hechi on Dec 8.
The matchmaking activity aimed to expand marketing channels of Hechi's agricultural products, such as oranges, grapefruits, and passion fruit, as well as promote poverty alleviation efforts through consumption.
Thanks to the favorable weather conditions, oranges produced in Hechi boast good and fresh tastes, as well as rich nutrients.
In 2019, the plantation area of oranges that will have output totals 236,000 mu (15,733.33 hectares). It is expected to yield 256,000 metric tons of oranges and have an output value of 1.3 billion yuan.
More than 100 purchasers were organized for a visit to the orange bases in the city to strengthen the in-depth communication between the purchasing and selling parties, as well as form stable long-term production and marketing relationships.
In recent years, the Hechi people's government has been promoting its 10 poverty alleviation industries, including walnuts, fruit, tea-oil trees, sugarcane, mulberries, chestnuts, beef cattle, and goats.
Sales channels of agricultural products in Hechi will be further expanded by promoting the development of rural e-commerce and cold-chain logistics, increasing the incomes of impoverished villagers.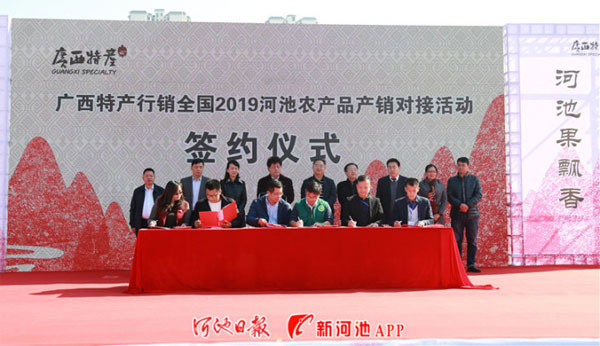 Several projects with a total contract value of 78 million yuan are signed at the agricultural products production and marketing matchmaking activity held in Yizhou district, Hechi on Dec 8. [Photo/Hechi Daily]