Cold chain logistic park in Hechi starts construction
By (chinadaily.com.cn)
2019-12-03
Construction of the Fuda Cold Chain Logistic Park for Agricultural Products started in Jinchengjiang district in the city of Hechi, Guangxi Zhuang autonomous region on Nov 30.
The park is a project signed during this year's China-ASEAN Expo (CAEXPO), which was held in Nanning, capital of Guangxi, from Sept 21 to 24.
With a total investment of 1 billion yuan ($142 million), the park is planned to cover an area of about 220 mu (14.67 hectares). It is composed of an agricultural products wholesale trading area, an urban distribution and processing zone, a logistics and warehouse area, a comprehensive supporting area, as well as a refrigeration storage house of a capacity of 50,000 metric tons.
The logistic park is expected to be put into operation by the end of 2020. It is estimated that its trading volume will reach 4 billion to 5 billion each year, as well as create more than 5,000 jobs.
Li Fuchao, chairman of Fuda Holdings Group based in Guangxi's Guilin, said that the park will be centered on the city, people's livelihoods, and industries to contribute to Hechi's economic and social development, industrial upgrading, as well as its efforts to improve people's livelihoods.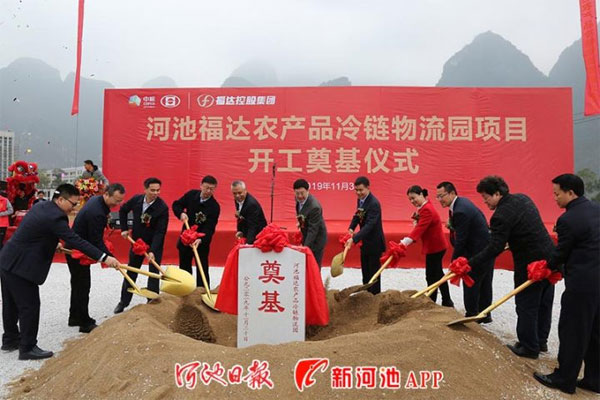 The foundation stone laying ceremony for the Fuda Cold Chain Logistics Park for Agricultural Products is held in Hechi, Guangxi Zhuang autonomous region on Nov 30. [Photo/Hechi Daily]