Luocheng propels poverty alleviation efforts
By (chinadaily.com.cn)
2019-12-03
Luocheng Mulao autonomous county in Hechi has been propelling its poverty alleviation efforts in recent years.
From 2016 to 2018, more than 57,900 people and 31 villages in the county were lifted out poverty, while the poverty incidence fell 18 percentage points to 10.41 percent.
Ten poverty alleviation industries, including cedars, sugar canes, mulberry trees, and tea-oil trees, have been vigorously developed in the county.
To date, the total plantation area of the 10 industries exceeds 2.6 million mu (173,333 hectares). Three new 10,000 mu tea-oil tree demonstration bases were built in the county, while the number of modern characteristic agriculture demonstration areas has reached 167.
The county is also making efforts to improve its transportation and water conservancy infrastructure.
About 7.8 billion yuan ($1.11 billion) was invested to build 10 high-grade highways with a total mileage of 295 kilometers in the past three years. By the end of 2018, the length of high-grade roads in the county was more than three times that of 2016.
A total of 1.7 billion yuan was used for projects related to drinking water and upgrading rural power grids in the county's rural areas from 2016 to 2018. The number of impoverished households which were relocated or whose dilapidated houses were renovated surpassed 20,000 in the county.
Luocheng has been also promoting language standardization in recent years. The county's rate of Mandarin speakers rose from 70 percent in 2016 to 90 percent in 2018.
By making full use of its picturesque scenery, the county has been developing its rural tourism industry as part of its poverty alleviation efforts.
The national 4A-level Mianhua Tiankeng Tourist Resort, with a total investment of 320 million yuan, has received more than 200,000 tourists so far. It has helped increase the income of 1,555 people in the surrounding poverty-stricken villages.
The development pattern integrating internet, agricultural bases, and poverty-stricken families is being promoted in the county. To date, the total sales of agricultural products through e-commerce platforms have exceeded 100 million yuan, increasing the incomes of 20,000 impoverished people.
It is expected that a total of 23,800 impoverished people and 32 poverty-stricken villages in the county will be lifted out of poverty by the end of this year, while the poverty incidence will drop to 2.32 percent.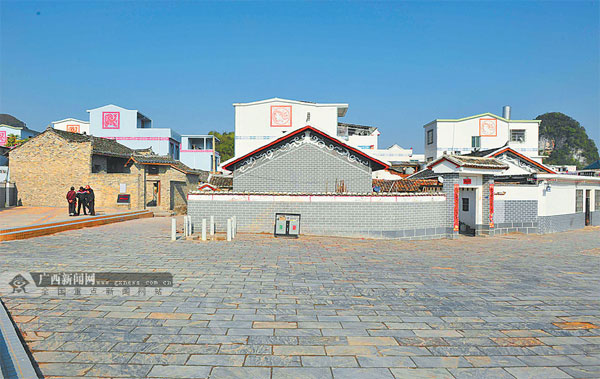 Shiwei Ancient Village is a hotspot for rural tourism in Luocheng Mulao autonomous county in Hechi. [Photo/gxnews.com.cn]