Dahua finds success in tough battle against poverty
By (chinadaily.com.cn)
2019-11-26
Dahua Yao autonomous county is a national-level poverty stricken county in Hechi, Guangxi Zhuang autonomous region. More than 90 percent of the county is located in a mountainous area.
In 2016, there were more than 100,000 registered impoverished people out of the county's total population of over 400,000, with the poverty incidence reaching 25.63 percent. Most of the poor households lived in the Dashi mountain area, with harsh living conditions and a fragile ecological environment. Water tanks are used to save rain water for people and animals to drink, while travel requires going over mountains.
Measures like relocating the poor, reconstructing old and dilapidated buildings, constructing more water tanks, building roads, as well as developing farming industries of Qibainong chicken, black goat, and Hongshui River fish, have been taken in the past few years to help lift the impoverished people in the county out of poverty.
From 2016 to 2018, 28,000 poor people in Dahua were relocated. The number of dilapidated houses that were renovated in the county's rural areas totaled 9,094. A total of 9,774 water tanks and 352 centralized water supply sites were built up, while construction on 1,370 village roads, totaling a length of over 2,300 kilometers, were completed.
In the past three years, the number of poverty-stricken villages in Dahua has decreased from 92 to 54, while that of impoverished people has been reduced from 103,687 to 58,152, with the incidence of poverty dropping to 14.38 percent.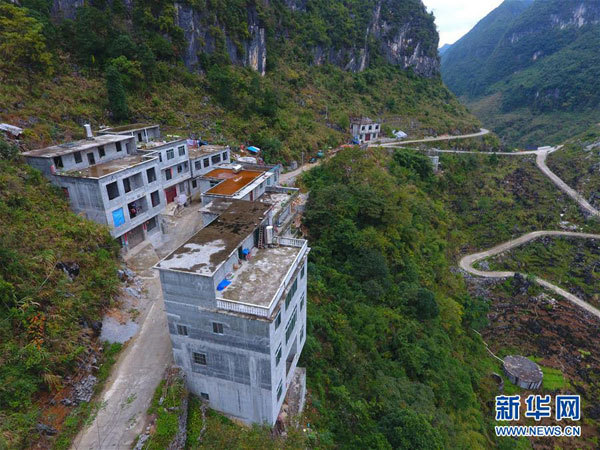 A photo taken on Nov 13 shows new buildings in Guzhu village in Qibainong township, Dahua Yao autonomous county, Hechi that are built by villagers who moved out from the mountainous areas. [Photo by Huang Xiaobang/Xinhua]