Junmei International Hotel
By (govt.chinadaily.com.cn)
2019-11-25
Junmei International Hotel is a four-star hotel built by Guangxi Junmei Hotel Investment & Management Co Ltd which combines catering, business and leisure. It is the first four-star hotel in Dahua county, Hechi.
The hotel is near the county government's office building and faces Hongshui River to the south. It is a mere four-minute ride from the bus station and has convenient transportation.
The hotel has 136 rooms including standard, executive suite, and deluxe suite. The rooms are equipped with French windows which offer a great view of the local scenery. A highly-rated restaurant can be found on the first and second floors of the building, which are decorated in a grand and luxurious style. There are seven exclusive VIP rooms on the second floor.
In 2016, the hotel restaurant, which offers an assortment of delicacies served up by a team of well-known chefs, including exquisite desserts and tasty seafood, was rated as one of the most popular attractions in Dahua county.
The hotel has conference rooms of various sizes, each equipped with high-end sound equipment, making it an ideal place to host business meetings, launch new products and hold press conferences.
Customers will also enjoy the use of a hotel sauna, chess and cards room, gym, and a large-scale parking lot. In 2014, the hotel was renovated and redecorated to provide "butler-style" service to guests.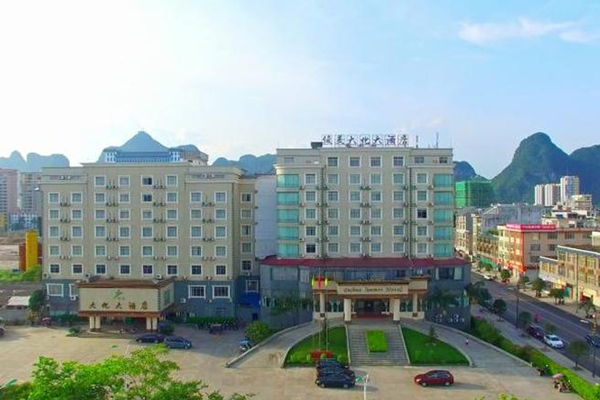 The exterior of the hotel. [Photo provided to chinadaily.com.cn]
Address: No 1 Jianfeng Road , Dahua county
Tel: +86-778-5829666