Hechi governmental agency assists poverty-stricken village
By (chinadaily.com.cn)
2019-11-19
The People's Procuratorate of Hechi in Guangxi Zhuang autonomous region donated 780 sets of winter goods, including quilts, cotton-padded clothing, and sweaters, to registered impoverished families in Lile village in the city's Nandan county on Nov 14.
It was reported that a total of 69 officials from the People's Procuratorate of Hechi has been assisting 1,521 people from 234 poverty-stricken households in the village in recent years.
With great efforts, 1,184 people out of 184 households have been lifted out of poverty, and the village's poverty incidence has decreased from 86 percent in 2016 to 11.88 percent today.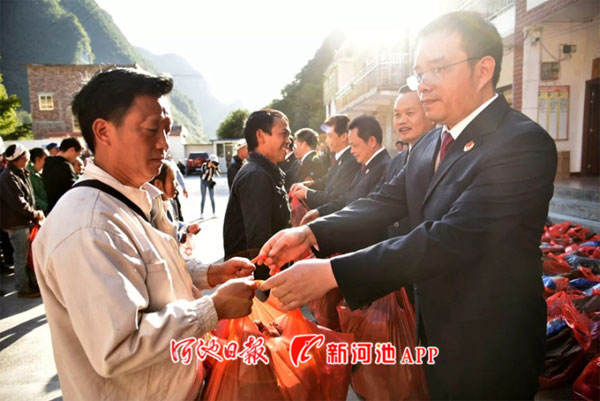 Officials from the People's Procuratorate of Hechi donate winter goods to registered impoverished families in Lile village in the city's Nandan county on Nov 14. [Photo/Hechi Daily]