Yizhou People's Cultural Park
By (chinadaily.com.cn)
2019-11-13
Yizhou People's Cultural Park is located north of the Yizhou Administration Service Center, and covers an area of 115.32 mu (7.688 hectares). Construction of the park was completed in August 2011.
Trees shade the park, including camphor trees, banyan trees, palms, and Dracaena Sanderiana, as well as more than 290 almond and mango trees.
The fountain in the southern part of the park occupies an area of over 800 square meters, and is formed by more than 350 spray guns and 581 colored lamps.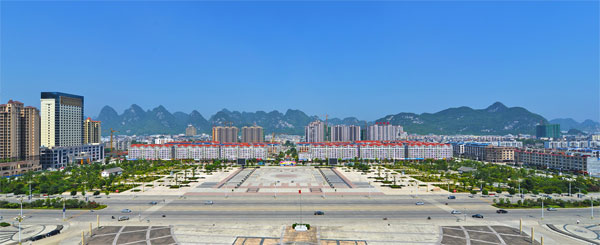 The full view of Yizhou People's Cultural Park in Hechi. [Photo/yzdzw.gov.cn]
Location: Yizhou district, Hechi, Guangxi Zhuang autonomous region
Public Transport: Buses Nos Yizhou-8, Yizhou-9, and Yizhou-601 to Yizhou Administration Service Center Station (宜州市行政服务中心站/Yizhou Xingzheng Fuwu Zhongxin Zhan)
Ticket Price: Free admission